Rams set to make a racket
After missing out on the post-season tournament in 2016, the men's tennis team looks to make a return appearance to the Great Northeast Athletic Conference (GNAC) tournament this time around, opening their season Thursday against the University of Massachusetts Boston at 6:30 p.m. The Rams hope to go as far as the championship, which has not been done since their 2014 season.
The men's tennis team was selected third in the GNAC North Division preseason poll by the league's head coaches and look to have a strong season on the court.
"We are going to make a full effort this year to win the championship and bring it back to what it used to be," said second-year captain Francesco Saia in an interview with The Suffolk Journal on Tuesday afternoon.
The team finished last season with an overall record of 3-9. The three teams the Rams were able to outscore were Wheelock College, Rhode Island College, and Curry College and all three appear on their schedule this season.
"We had a lot of new players last year and it was a development season for us," said sophomore Rami Esrawi in an interview with The Journal on Monday. "We are looking to build off of that this year and hopefully make it to the championship."
The initial scheduled start date for the Rams first match was March 23, but due to inclement weather, the season opener was postponed to an unannounced date. Although the matches were anticipated to start recently, the team has been practicing for about a month, focusing on their game mechanics as well as setting aside 15 to 30 minutes of each practice to work on mental conditioning.
"Tennis is really a mental game," said the business management major, Esrawi. "I think it's a big part. If you miss a couple shots, don't worry about it. You just have to play your form, play your style, and you'll win matches."
Senior finance major, Saia said he is sad that it is his final season on the team, and it will be especially tough this year, because he will compete this season without the coach who had stood by him during his past three years at Suffolk University, Steve Counihan. The Rams obtained an interim head coach in place of Counihan–Isaac Stahl.
Stahl did not respond to communication with The Journal regarding this article as of late Tuesday night.
"I think we can go far," said Esrawi. "We want to win it for our head coach [Counihan] this year."
While improving everyday and hoping to come out on top of their conference, the Rams have the expectation to win the championship this season. They also hope to win their most difficult matches against Johnson & Wales University and Norwich University.
"Basically we work that it's one match and one practice at a time," said Saia. "If you got off the court knowing that you did better than the last day then you did your job, and you did it correctly."
With noticeable improvements from last season, Esrawi said how everybody on the team gets better every single day and is dedicated and committed to the team.
"We want to improve every single day, that way when we have our first match and especially have our first conference match, we really show who we are," said Saia.
Leave a Comment
About the Contributor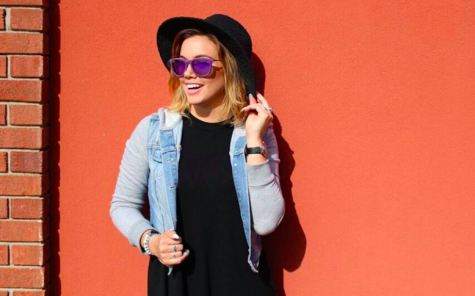 Brooke Patterson, Past Sports Editor
As a senior majoring in Journalism Print/Web, Brooke Patterson strives to not only bring a positive light to her stories, but also those around her. Despite the fact that her sports career has ended, Patterson remains involved with her love for athletics through The Suffolk Journal as the Sports Editor. She is currently exploring life in the city of Boston and will never hesitate to stop to pet a dog as they walk by her. Although Boston will forever be her home, Patterson hopes to explore and use her degree in other cities, such as New York and Los Angeles.