Pope Francis elicits praise, criticism for Trump comments
His Holiness Pope Francis, leader of the Roman Catholic Church, has received increased media attention in recent months and the reason has nothing to do with the institution he is charged with leading. It's because of President Donald J. Trump.
The Pope's involvement in the 2016 presidential election began a little more than year ago with a series of comments directly attacking Trump's controversial plan to erect a border wall along the United States' southern border with Mexico.
"A person who only thinks about building walls, wherever they may be, and not building bridges, is not Christian," the Pope said in an interview with multiple news sources. Trump immediately responded.
"For a religious leader to question a person's faith is disgraceful," then-candidate Trump said at a rally in South Carolina shortly after the incident last February, calling himself "a good Christian."
That same line of criticism continued last week when on Feb. 18 Pope Francis tweeted a message calling on Catholics to take in immigrants and refugees.
"How often in the Bible the Lord asks us to welcome migrants and foreigners, reminding us that we too are foreigners!," said the tweet, sent from Pope Francis' official account.
Again on Feb. 22, the Pontiff tweeted a religious message that many read as a criticism of what has become known colloquially as "the wall."
"Jesus entrusted to Peter the keys to open the entrance to the kingdom of heaven, and not to close it," the Pontiff tweeted.
But it was comments that Pope Francis made on Jan. 20, just as Donald Trump was being sworn in thousands of miles away, that have raised a few eyebrows.
In an interview with Spanish newspaper El Pais, the Pope was asked about the rise of populism, a political disposition which focuses more on the immediate concerns of the people rather than ideologies.
"In my opinion, the most obvious example of populism in the European sense of the word is Germany in 1933," the Pope said. "Hitler didn't steal power, his people voted for him, and then he destroyed his people. That is the risk. In times of crisis we lack judgment, and that is a constant reference for me."
Despite the connotations of his comments, the Pope insists that he is taking a 'wait and see' approach with President Trump.
"I don't like to get ahead of myself, nor to judge people prematurely. We will see how he acts, what he does, and then I will form an opinion," he said.
"Being afraid or rejoicing beforehand because of something that might happen is, in my view, quite unwise," he continued.
At Suffolk University, the religious community responded with unease.
"We as citizens of the United States, and those who identify as Roman Catholic, need to really examine the role of social media in our lives," said Reverend Amy Fisher, University Chaplain in an interview with the Journal Tuesday.
Papal influence in international politics is nothing new.
During a trip to the Philippines in 1981, Pope Saint John Paul II explicitly criticized the country's president Ferdinand Marcos for his human rights abuses in a blistering speech.
Pope Pius XII, who led the Church through the Second World War and Holocaust, directed Catholic clergy to provide covert assistance to Jews living under Nazi rule.saving thousands of lives.
Leave a Comment
About the Writer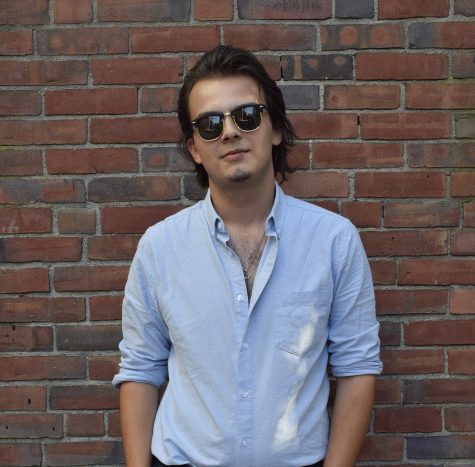 Nick Viveiros, Senior Staff Writer
Nick Viveiros is a senior majoring in Politics, Philosophy & Economics and Journalism. Born and raised in Fall River, MA, he began writing for the Journal in the fall of 2016.
Nick published his first book, the poetry collection this new world, during his first semester of college. His second book, Love Across the Zodiac, was released through his company, Quequechan Press, in mid 2019.
Follow Nick on Twitter @thenickviveiros 
or head on over to his website, nickviveiros.org