Students converse for comfort amid an era of uncertainty
Hang on for a minute...we're trying to find some more stories you might like.
At 2:15 p.m. every Thursday, a group of individuals meet in the Interfaith Center at Suffolk to hold their weekly "Muslim Conversations" event. The conversation last week focused mostly on thoughts surrounding the first immigration executive order by President Donald Trump.
"It's an attack on others who are different to assimilate to the United States culture," said senior Sociology major Suad Diriye, regarding Trump's recent Muslim ban. Although temporarily blocked, the executive order still has an affect on those identifying as Muslims and others alike.
Unfortunately, Muslim men and women in the U.S. are afraid, especially if they originate from one of the seven countries whose residents Trump banned from entering due to "terrorism," many in the group noted.
"Trump has lost a sense of humanity and has no awareness for human rights," said junior International Relations major Ambria Kociu. "He could be breaking international law."
Most of the conversations these men and women have surrounded Trump and his administration due to their seemingly racist remarks toward people of color. Diriye went on to point out the reasoning behind the ban and how Trump "picks and chooses his battles" by not banning countries he has business relations with. "He chooses to do just what he can control," said Diriye
Suffolk University sent an email regarding the Muslim ban last month. In the email, Interim President Marissa Kelly stated, "I want to assure members of our community that the leadership of Suffolk University supports you all." They followed up with a list of supportive resources for students affected by the Muslim ban.
"Suffolk is aware and it helped," said Diriye.
Many parts of Suffolk are a "no judgment zone" where intolerance is not allowed. This is similar from one Muslim woman to another.
"I've rarely seen judgment from one Muslim women to another. Especially on the choice to wear a Hijab," said Rev. Amy Fisher, Suffolk University's Chaplain.
Kociu agreed and related it to modesty and also the connection to one's religion. "At the end of the day, it's between you and God/Allah," said Kociu.
Another student within the group who preferred to not be named said, "Other minorities are being affected by this ban. So many people in the countries banned are not Muslim." He went on and said, "The ban is broad."
Many in the group related the executive order to the controversy in France on the "Burkini Ban." The Burkini Ban revolved around different opinions on the use of a women's swimsuit that was modest and covered their hair. The group agreed it was only an issue due to the different, Muslim-associated name with it and that the burkini was different from the French culture.
The people at Muslim Conversations are aware the list could grow as Trump decides on what is "best" for the country.
"He's assuming all these people are bad, when in reality they can just be running away from their unfair governments," said one student in the group.
Not all these conversations surround the Muslim ban, but it is pertinent to the lives of Muslims and other minorities. The group agreed the ban is important to continue discussing due to how many people it affects, but Muslim Conversations and the Interfaith Center have been around even before the ban.
The group said it's important to protect your friends and neighbors and stand in solidarity with Muslims and other minorities. It's not a time to adhere to stereotypes.
About the Contributors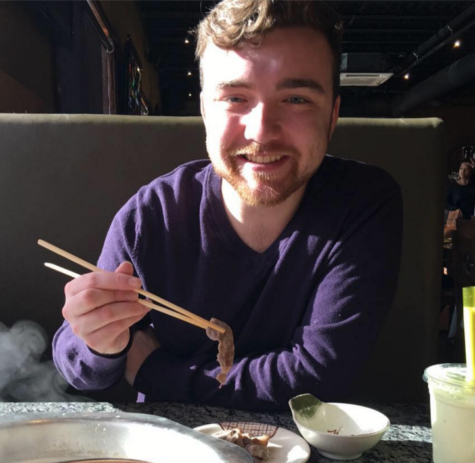 Patrick Holmes, Former Opinion Editor and Managing Editor
An advocate for human rights, Patrick Holmes aspires to help people through writing and to create that much talked about difference in the world. Through education, he sees a world that can change for the better and unite to actually be for the people. He believes every story is worth telling as long as it is the truest truth.
Holmes earned a Public Relations degree in the fall of 2018. Alongside this journey, he hopes to keep creating lasting friendships and helping people. His career path is the start to change.