Schiebel records historic hundredth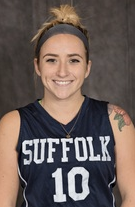 As her senior basketball season dwindles to an end, "point god" Kelsey Schiebel brought in her 100th career start on Feb. 9 at Albertus Magnus College.
Schiebel joined three other Lady Rams, Iliana Quadri '15, Jacqueline Vienneau '13 and Katie Librandi '02, with this collegiate career accomplishment.
"It's been an honor to be part of such a successful program over the last four years," said Schiebel in an interview with The Suffolk Journal on Monday. "I'm close with two of the girls on that list so we talked a little bit about it and made me really think of all the great runs that I've had with the different teams over that time period."
At the Nest in New Haven, Conn., Schiebel added to the 63-56 win by putting in 19 points for the Lady Rams. As of Tuesday, Schiebel now has a total of 258 points this season, averaging 10.8 points per game.
"It's made me feel extremely grateful," said Schiebel. "To look back on all the teammates and friendships I've created and the support I've gotten from the coaching staff for the last four years."
For many people, starting in 100 collegiate games would be a huge milestone, but Schiebel knew the contest against Albertus Magnus College was a big game so she chose to focus on helping the team win.
"We talk a lot about accomplishing things as a team, and I don't necessarily feel that we have yet," said Schiebel. "We've grown a lot as a team and have been really successful, but I think we all know that the ultimate goal or accomplishment that we feel is possible is winning the [Great Northeast Athletic Conference Championship]."
Schiebel may have a new lucky number of 100 because on Jan. 26 she also appeared in her 100th collegiate game as a Suffolk University athlete. Although the team fell short to Johnson and Wales University with a final score of 54-49, the game was still an accomplishment for Schiebel as it added her to the list of 16 players to compete in 100 collegiate games.
"I've had the privilege to call [Schiebel] a teammate and a friend for the past four years," said senior guard Georgia Bourikas in an interview with The Journal on Tuesday. "She's an unbelievable basketball player and I've always admired her drive and determination to better herself and the team. Watching her accomplish not only playing, but starting in 100 games, was unbelievable and I'm so proud to see her growth in who she is as a player and a person."
Schiebel will play in one last conference game Saturday against Emmanuel College for the Lady Rams. During the game, the team will recognize their seniors before they all make a run for the playoffs.
"I've been trying not to think about it," said Schiebel. "All these games down the stretch for me have been very meaningful."
Schiebel said she has had too many memorable moments the past four years at Suffolk, but  some that stood out among others were starting in her first game ever as a freshman and winning games with only seconds left. She also recognized Bourikas and senior forward Alex Clark for coming in as freshman together with her and being teammates for the past four years.
"We started out as roommates our freshman year and there's no one I'd rather have beside me throughout our college years," said Bourikas. "Off the court, she's one of my best friends, and I think that's why we play so well on the court together. She's my point guard and I'm her shooter and there's no other way I'd have it."
After graduation, Schiebel joked about leaving behind a pile of her clothes and sneakers in the locker room for her teammates, but on a more serious note, she said she hopes to end the season successfully with a banner hanging in Ridgeway.
Leave a Comment
About the Contributor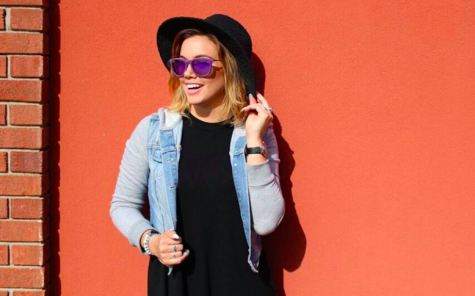 Brooke Patterson, Past Sports Editor
As a senior majoring in Journalism Print/Web, Brooke Patterson strives to not only bring a positive light to her stories, but also those around her. Despite the fact that her sports career has ended, Patterson remains involved with her love for athletics through The Suffolk Journal as the Sports Editor. She is currently exploring life in the city of Boston and will never hesitate to stop to pet a dog as they walk by her. Although Boston will forever be her home, Patterson hopes to explore and use her degree in other cities, such as New York and Los Angeles.