Abduction stokes Hong Kong seperatists
Hang on for a minute...we're trying to find some more stories you might like.
One of China's richest, most politically influential men has been missing for nearly two weeks after an alleged abduction from a Hong Kong hotel.
Xiao Jianhua, a self-made billionaire with political ties to the family of Chinese President Xi Jinping, was allegedly taken from the Four Seasons Hotel where he lives in Hong Kong by a group of Chinese public security guards in the early morning of Jan. 27, according to multiple news sources and those briefed on the incident.
As the incident continues to unfold, critics have called into question the issue of Beijing's arbitrary power and tendency to meddle in Hong Kong's political theatre.
Hong Kong's mini-constitution bars outside police forces from operating in Hong Kong, so as it stands this abduction is illegal.
Hong Kong police later confirmed Xiao was taken to the mainland, allegedly to assist authorities with investigations, according to the South China Morning Sun.
Social media posts allegedly from Xiao that appeared following his disappearance denied he was in Mainland China, instead stating he was receiving medical attention. The posts were removed a short time later.
Charles Tang, a sophomore business major at Suffolk, is from Guangzhou, China but was born in Hong Kong. Due to his origins, he is very familiar with the controversy surrounding "mainland" China versus Hong Kong.
Guangzhou is considered to be similar to Hong Kong because it is liberal leaning so the move from Hong Kong was not very different for his lifestyle, he said.
"As of right now, I do not feel affected by the political turmoil, but many Hong Kongers do since they view the 'mainlanders' as impolite," said Tang in an interview with The Suffolk Journal late Tuesday night. He also said  that Hong Kongers do not appreciate people from the mainland and have animosity toward them due to the tourism in Hong Kong.
Xiao's abduction echoes a similar incident that took place in 2015 when five booksellers were whisked to the mainland by China's internal police force.
The official explanation for their absence was that they were illegally distributing unauthorized books on the mainland, but some believe they were detained over a planned publication of a book about the romantic life of President Xi.
One of those kidnapped was Swedish citizen Gui Minhai, who has remained in detention for 15 months since being abducted.
Tensions between Hong Kong and China continued to grow, which has led to an emerging separatist movement that has tried to take root in Hong Kong politics and gain strength over the last few turbulent years.
"I think Hong Kong should be able to decide whether or not they want independence and China is meddling too much in our business," said Tang. He went on to talk about the recent elections of how Hong Kong citizens vote for senators that they vote in elections.
Last year, self-identified separatists won six seats in Hong Kong's legislature. The election followed two years of China tightening its grip on political reform within the territory.
Two months after the election, China's communist government blocked two separatists, Sixtus Leung and Yau Wai-ching, from taking seats in Hong Kong's legislature, according to the New York Times. Both Leung and Wai-ching are members of the emerging Chinese separatist movement "Youngspiration," that has energized a coalition of unsatisfied Chinese youth.
Formerly under British control until 1997, Hong Kong has been a territory of China even though an international treaty known as Basic Law guarantees it a "high degree of autonomy" through 2047. Hong Kong has flourished with free speech and civic culture until recently, according to the New York Times.
Chinese Parliament was able to renege seats because, legally, they are allowed to interpret Basic Law in any way they want.
The constitutional scuffle ensued when both Leung and Yau used a derogatory Chinese term in the wording of their oaths, according to the New York Times.
Due to the relationship  between Hong Kong and China, separatist movements have sprung up to reaffirm Hong Kong's independence.
The Chinese government has stated lawmakers must read their oaths "completely and solemnly," and exactly as written to be able to be sworn in. Otherwise, the administrator can bar them for reciting the oath in an "insincere or undignified manner."
Moreover, the Hong Kong government has rescinded a permit for Youngspiration to set up a stall in the New Year celebrations. Some perceived this as disrespectful to Hong Kong culture.
Most Chinese people on the mainland do not care for politics and what is happening with the people of Hong Kong, Tang clarified. They care more about gossip and scandals.
The decision to bar the two separatist legislators caused outrage among Hong Kong citizens and protests that were reminiscent of the 2014 "Umbrella Movement," that lasted for nearly 80 days.
The Umbrella Movement was held in defiance of Beijing's refusal to allow Hong Kong citizens democratic reforms. This movement is what inspired the six new separatist legislators, according to the New York Times.
"After the Umbrella Movement, China cleaned the streets so they looked better than before the protests, almost erasing it and giving them the option to only vote for senators," said Tang. "This caused the Hong Kongers to riot and many believe this was a tactic for China to show how ridiculous Hong Kong is and that they cannot govern themselves."
The Umbrella Movement strived to create free popular elections and pushed for the resignation of Leung Chun-ying, the pro-Beijing Hong Kong chief executive.
However, both were unsuccessful and China's unconstitutional interference with Hong Kong remains a perceived threat.
Lack of trust in pan-democratic leaders has incubated the Chinese separatist movement, gaining enormous popularity from the youth in Hong Kong.
Leung's level of trust from the public began to slip away when he condemned a publication for public reprimand which citizens found as a threat to their free speech.
Leung's political future remains in jeopardy. His term ends in March and separatists are gaining popularity among the youth of Hong Kong. The next election will take place on March 26. However, many Hong Kong residents have lost hope due to the election not being a true one, according to the New York Times. A 1,200 member pro-Beijing committee will choose the list of candidates for the election. With a uniform committee, the independent political future of Hong Kong does not look bright.
About the Contributors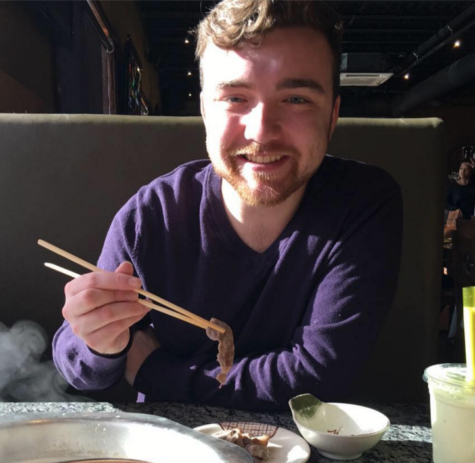 Patrick Holmes, Former Opinion Editor and Managing Editor
An advocate for human rights, Patrick Holmes aspires to help people through writing and to create that much talked about difference in the world. Through education, he sees a world that can change for the better and unite to actually be for the people. He believes every story is worth telling as long as it is the truest truth.
Holmes earned a Public Relations degree in the fall of 2018. Alongside this journey, he hopes to keep creating lasting friendships and helping people. His career path is the start to change.