Galentine's Day Cards
Since it was coined by popular TV character Leslie Knope of NBC's Parks and recreation, "Galentine's Day," Feb 13, is a worldwide celebration of women. Eva Marie Taylor, an illustrator from Indiana, created a Galentine's Day card coloring book. The coloring book features 20 unique, charming and empowering messages to tear out, color and share with the special women in your life. The cards include inspirational phrases such as "Happy Girls are the Prettiest" and fan-favorite Leslie Knope quotes like, "I love you more than breakfast food." This collection ties in perfectly with the latest "adult coloring book," trend that has been on the rise for the last year. In a world that needs to start celebrating positive relationships and fostering healthy and respectful environments, Taylor's "Parks and Rec" themed coloring book is an excellent way to ease into the simplicity that is being kind to one another.
 To learn more about the artist and her work visit www.evamariemade.com.
Leave a Comment
About the Contributor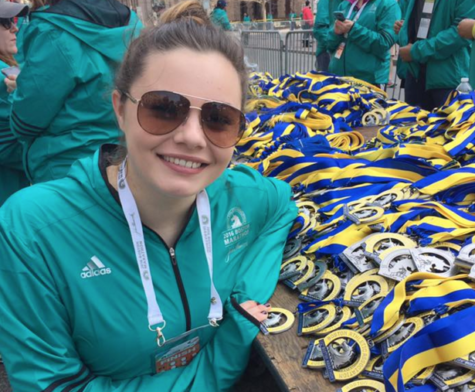 Katie Dugan, Assistant Opinion Editor
Born in Manchester, New Hampshire, Katie Dugan is a recent graduate of 2017 who majored in public relations. She lists among her many non-academic accomplishments successfully raising her pet, a beta fish named Moses and greeting the nations first sunrise on two occasions on top of Cadillac mountain in Maine's Acadia national park. She enjoys running, especially when the race is over and while she lives to explore her adopted city of Boston, just don't ask her for directions to where anything is. Finally, Katie loves the written word and working for The Suffolk Journal and sees the upcoming administration in Washington DC as an unlimited supply of future content for her columns.