Well traveled, war-hardened poet joins Suffolk writers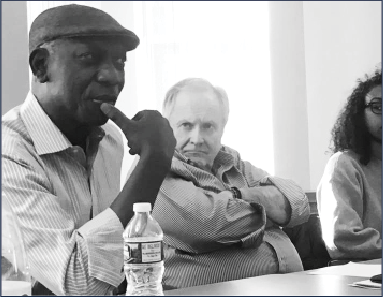 American poet and New York University professor Yusef Komunyakaa captivated audiences through his enchanting poetry on Thursday and Friday as part of Suffolk's Poetry Series put on by the English and Creative Writing department. Students and teachers gathered to witness Komunyakaa read his world-renowned poetry inspired by events throughout his life, particularly the time he spent as a correspondent during the Vietnam War.
Accompanied by Suffolk English professor Fred Marchant, Komunyakaa gave two poetry readings on Thursday in Modern Theatre. On Friday, Komunyakaa hosted a writer's roundtable for Suffolk alumni of the Creative Writing department, along with any other student poets willing to share their work.
Komunyakaa is a Louisiana-born poet who served in the United States Army as a press correspondent in Vietnam from 1969 to 1970. Using his experiences as a correspondent, he wrote 15 poetry books based on his time in Vietnam. He has garnered attention from an international audience for his profound ability to capture the politics attached to the Vietnam War while he incorporated the emotions and nature he witnessed while in Vietnam into his poems.
According to Komunyakaa, the war is what encouraged him to take up poetry. He  said his process for writing poetry is similar to an internal dialogue. He also reflected on how his travels and race have impacted his poetry.
"Traveling around the world is a dialogue with extended possibilities," said Komunyakaa. "Everything we encounter becomes a part of us in some way."
Throughout his life, he said he has been careful to consider and incorporate the events he endures into his poetry.
After writing several books, he received numerous awards such as the San Francisco Poetry Center Award, the National Book Critics Circle Award and eventually the Pulitzer Prize and the Kingsley Tufts Poetry Award. Currently, Komunyakaa is a professor at New York University in the graduate creative writing program.
During Thursday evening's poetry reading, Komunyakaa's eloquent voice filled Modern Theatre. The silence of the audience deepened with every word he spoke as memorable imagery and symbolism within Komunyakaa's poems instilled a resonating peaceful ambiance throughout the room.
Although his poems do not have an overtly controversial theme, they naturally possess a political undertone to them, Komunyakaa said as he elaborated upon his writing process.
When asked how it feels to be an American, specifically in the wake of the recent election, Komunyakaa said that, to him, being an American  means realizing that "America is an idea that is still a work in progress."
Throughout Komunyakaa's life, he has come in contact with people of all different races and backgrounds. As a whole, Komunyakaa explained to the audience that he believes there is a part of him that has changed over time and is always changing.
On the other hand, he said because he has been through so many different experiences, Komunyakaa feels there is another part of him that is constant.
"There's a part of me that remains unchanged," he said. Feeling both changed and unchanged inspires creativity within Komunyakaa.
"It's the process of arriving at some unknowns" said Komunyakaa. "Albeit you may think a poem may be headed in one direction, it may happen that you reach an unexpected ending."
When comparing the process of writing poetry to living in modern society, Komunyakaa explained that in a world with so much noise and action, "We have to be listeners sometimes."
After listening to Komunyakaa read his powerful poetry, aspiring young poets in the audience had the opportunity to ask him questions.
Curious about Komunyakaa's creative process, some audience members asked questions about how his morals have had an impact on his poetry. Others asked Komunyakaa if he listened to music while he wrote or if there was any type of music that inspired the rhythm of his poems.
Additionally, Komunyakaa shed more light on the creative process at the writer's roundtable on Friday afternoon.
Thoughtful minds, young and old, gathered with Komunyakaa to share their personal poetry and think out loud and discuss rootedness, uprootedness, life, death and all other elements that go into constructing poetry.
The roundtable was structured along the lines of an educational discussion between skilled writers. Rather than lecturing about how to write, Komunyakaa commented on the style of each poem and expressed appreciation for each poem's individuality.
Perhaps one of the more insightful points discussed at the roundtable was that poetry is a dialogue with oneself. Komunyakaa and the other poets considered why we write poetry anyway.
"It is a beckoning towards listening," Komunyakaa said, "and maybe that is the reason we write."
About the Contributor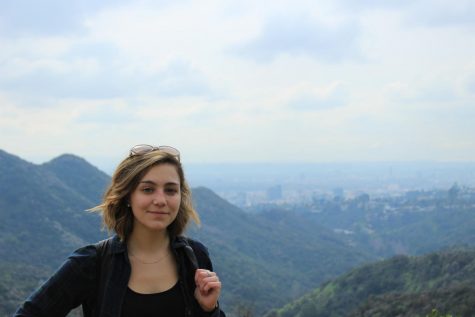 Amy Koczera, World News Editor | she/her
Amy has been writing for The Suffolk Journal since fall 2016. In addition to being the World News Editor, she is also the treasurer of the Suffolk Jazz Band, a Teaching Assistant, Resident Assistant, a member of The Journey program, and a Project Leader for the Center for Community Engagement. Amy is originally from Dartmouth, MA and studies Broadcast Journalism with a minor in Philosophy. When she's not in the Journal office, you can find her at the gym, the Esplanade or walking around campus wearing a backpack that's twice her size.
Follow Amy on Twitter
@AmyKoczera