Voter authenticity in question
Hang on for a minute...we're trying to find some more stories you might like.
The presidential race for Suffolk's Student Government Association could not have come at a more convenient time than coinciding with the United States presidential race. As a result of this fact, Suffolk students have a unique opportunity to vote for both the next U.S. President, and Suffolk's SGA President. However, there is a persuading factor of prominent figures endorsing candidates both in the U.S. and on Suffolk's campus.
Besides this, students are encouraged to vote in the elections to help create a new future for both Suffolk and the U.S. as a whole. In each case, it is of greater help to vote than to abstain from voting so there is a more accurate representation of the most favorable candidate. That being said, voting should be of the students' own accord.
However, the sad truth about elections is that people are persuaded easily, candidates and voters alike. Candidates are usually endorsed publicly, which affects the voter's ballot's authenticity.
Recently, SGA President Colin Loiselle showed his support for SGA Vice President and President hopeful, Sean Walsh. Loiselle's action by endorsing Walsh has left the other candidate, Jonathan McTague, at a disadvantage in the race for presidency.
McTague commented on this action from Loiselle by saying, "After hearing of the endorsement made by current SGA President Colin Loiselle, I wasn't surprised at all. However, I was somewhat confused." McTague then went on to talk about his goals for the university and said, "This campaign is about making Suffolk a better commUNITY as well as putting our students first!"
In contrast with the actions of Loiselle, a similar effect would be Barack Obama endorsing one of the candidates in the running for U.S. President, which would ultimately persuade a good majority of people to vote for the endorsed person. Overall, support from prominent figures who are well liked can easily change the playing field for elections.
The act of endorsing someone seems like legal corruption since someone is using their power, and maybe fame, to persuade others to make a decision that might not have been favorable to some in the beginning. This can be compared to rigging an election because the voters may not have chosen the candidate they wanted to begin with.
There have been multiple Republican candidates who have dropped out of the race but who have then gone back and endorsed other candidates to give them a greater chance at winning. These actions could have an effect on the outcome of the U.S. presidential race if citizens were planning on voting for the supporter.
In the case of Loiselle's support for Walsh, it seems like an unfair advantage against McTague since people look up to Loiselle and respect his decisions as President of SGA.
"My goal isn't to pin candidates against each other and or have our association choose sides," said McTague.  "The Student Government Association, in my opinion, is a team that is supposed to work together to bring an overall community as well transparency to our institution. "
Nevertheless, students should keep in mind who they originally support and identify with and to not let the support for Walsh affect their decision. Ultimately, it is the voter's decision but the choice should not be based off of what other people want.
McTague finished his comment with, "The facts are clear; my main mission has been the same from the very start here at Suffolk University. That is to fight for our students, listen to our students and learn from our students."
About the Contributors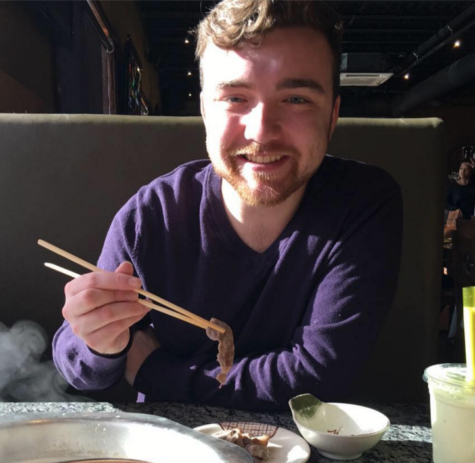 Patrick Holmes, Former Opinion Editor and Managing Editor
An advocate for human rights, Patrick Holmes aspires to help people through writing and to create that much talked about difference in the world. Through education, he sees a world that can change for the better and unite to actually be for the people. He believes every story is worth telling as long as it is the truest truth.
Holmes earned a Public Relations degree in the fall of 2018. Alongside this journey, he hopes to keep creating lasting friendships and helping people. His career path is the start to change.