To the victor goes the spoils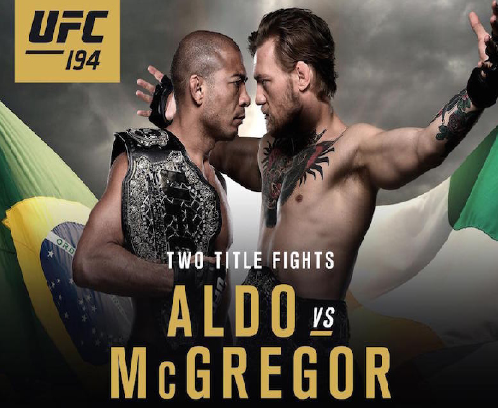 Hang on for a minute...we're trying to find some more stories you might like.
Trash-talking mixed martial arts phenom, Conor McGregor will be facing the dominant UFC Featherweight Champion, Jose Aldo, in the main event of UFC's final pay-per-view of 2015, UFC 194.
The fights will be taking place in the historic MGM Grand Arena in Vegas on Dec. 12.
The fight has a personal feud behind it as the two vie for the title of the unification fight. The battle will prove who is the undisputed champion of the featherweight division.
McGregor and Aldo were supposed to clash in the octagon at UFC 189 in July. Due to an injury to the rib suffered while sparring less than three weeks out from the event, Aldo was unable to fight.
In the time since, McGregor defeated Chad Mendes to become the Interim Featherweight Champion. Aldo reassured MMA fans he will show up at the event, making this his first title defense of 2015.
"I will be there," Aldo said to ESPN. "That's more certain than all of our deaths in the future. I will be there and I will win, as usual."
McGregor said he will immediately move up into the lightweight division if he wins, in order to become a double champion, according to ESPN.
"I will knock out Jose and I will face the winner of the lightweight belt, which takes place a week after," said McGregor. "So, within the next two fights I will be a two-weight world champion."
McGregor has won his last four fights by a TKO, in either the first or second round. Aldo has won his two fights by decision. His past success gives McGregor the confidence that this next fight will end shortly.
"I just don't see him answering the bell for the second round," McGregor said at the UFC 194 press conference in Las Vegas. "I can't see his face or his body at the beginning of the second round. I see him KO'd inside one and when you KO a man inside one, there's no need for a rematch."
The co-main event of the night is between UFC Middleweight Champion, Chris Weidman, defending his title against former Strikeforce Middleweight Champion, Luke Rockhold.
Weidman and Rockhold are both considered to be the top middleweight fighters in the world, according to MMA website, Sherdog.com.
Weidman is currently 13-0 in MMA fights, and Rockhold's record is 14-2, according to their statistics provided on the UFC's website.
Rockhold is a submission and wrestling specialist who has made his last two opponents tap out. One of them was top middleweight and former champion, Lyoto Machida.
Rockhold has been training with heavyweight fighters Cain Velasquez and Daniel Cormier. He believes this training will help him win the title.
"I'm not going to sit there and cower down and let him control the ring," said Rockhold during the UFC 194 press conference. "I'm going to stop him in the middle of the cage, I'm going to dominate him, and then I will finish him."
Weidman is a wrestling expert who can take opponents down to the ground quickly, like his two fights against former top fighter and UFC star, Anderson Silva. Weidman's title defense at UFC 187 this year did not go past three minutes and ended in TKO. His defense was against another former champion, Vitor Belfort.
The fight is between Ronaldo Souza and Yoel Romero is set to take place at UFC 194. This is another delayed fight, as the two were supposed to square off in the Octagon at UFC 184 and UFC on Fox: Machida vs. Rockhold.
The single woman's fight on the card is between the debuting Jocelyn Jones-Lybarger and Tecia Torres. Jones-Lybarger is a last minute replacement for Michelle Waterson. This fight will be taking place on the preliminary card, which will air on Fox Sports 1. This can be a make or break deal for her, as Torres is a striking specialist who can quickly knock her opponents out.
The card is looking to be one of the strongest the UFC has put on this year. The popularity of McGregor and Weidman are sure to make this a must-watch show.