ABC's "20/20" news program broadcasted a monumental special concerning Bruce Jenner's transition into a woman. Transgender issues are not necessarily a taboo topic in the media, especially since "Orange is the New Black," transgender actress Laverne Cox has been the spotlight over the past year or so for her activism.
But, until "Bruce Jenner: The Interview" aired, journalists covering trans issues had done a poor job of well, doing their job: listening.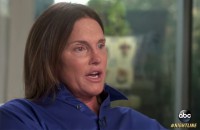 On the "20/20" special, however, Diane Sawyer gave Jenner and the entire transgender community something they have not been given: a voice. Jenner was able to defend and speak for himself. Sawyer approached the subject with immense sensitivity and kindness, making sure Jenner could tell his story the way he wanted to.
ABC also took the opportunity to inform America about the basics of gender identity, what it means to be transgender, and so on. The special included several discussions about trans people and pronoun choice from doctors and transitioned men and women. It also tackled the big issue of trans suicides and hate crimes, and the lack of laws in place to protect trans people from being fired for their gender identity.
ABC set an example, and it is an example we as journalists need to follow. Thankfully, ABC's daughter station, ABC Family, already has. According to the Huffington Post, ABC Family will air an unscripted series about a transgender father and his family called "Becoming Us." This is a big step in the right direction where viewers will be able to see a first-hand perspective of the lives of transgendered people and their loved ones.
The only justice given for previous reporting on transgender issues was limited to Piers Morgan sensationalizing trans activist and writer, Janet Mock, in a 2014 interview, where Morgan insisted Mock was "born a boy" and "was a boy until she turned 18." Morgan then assembled a panel of talking heads to pompously discuss transgender issues, without inviting a single transgender person to share their thoughts on the matter.
Likewise, when Katie Couric fixated on the status of Jenner's genitalia and speculated invasive questions about gender confirmation surgery, she fueled the obsessive stigma over trans people's bodies, as if to say their genitalia is all anyone cares about when an individual is undergoing a transition.
Just about every tabloid in the country speculated for years about Jenner's transition. Instead of focusing on him — Jenner still uses male pronouns — they sensationalized the story with headlines that read "First look at the new Jenner" and "Bruce in a Dress," as if inviting the audience to gawk at transitioning men and women.
While Jenner's interview is a milestone in the transgender community, there is still a ways to go. According to Time Magazine, there is an underwhelming amount of representation for transitioning men and women of color. Laverne Cox often speaks out about this, saying that Jenner is privileged, that he can afford doctors appointments, therapies, surgery, and new clothes, while men and women of color often do not have access to healthcare coverage for these resources.
It is clear that transgender reporting has progressed over the past year, partly thanks to Bruce Jenner's tremendous bravery, but it is also apparent that this is a slow moving process, and there is still much work to be done, and many more stories to be told.