Suffolk needs to pay attention to undocumented students
If you google "Suffolk University undocumented students," one of the first links that appears on the search is an article from Brandeis student newspaper, The Brandeis Hoot. The article, written in 2011, states that Suffolk will reject any student who is undocumented.
While this is an issue I study often, it is even more prevalent this week, as an organization called United We Dream has dubbed April 7 to be "National Institutions Coming Out Day," a day for colleges to share how they are helping undocumented students.
I have reached out to the Hoot and the author of the article to verify this information, and have not received a response. After speaking to a few administrators at Suffolk, it seems that this statement may be false. However, Suffolk does not provide any resources or guidelines for undocumented students who would like to attend our university. I have also come across a couple of faculty at the financial aid office and in  diversity services who did not know what undocumented means or were unfamiliar with terms such as DACA, or the deferred action program implemented by President Barack Obama in 2012.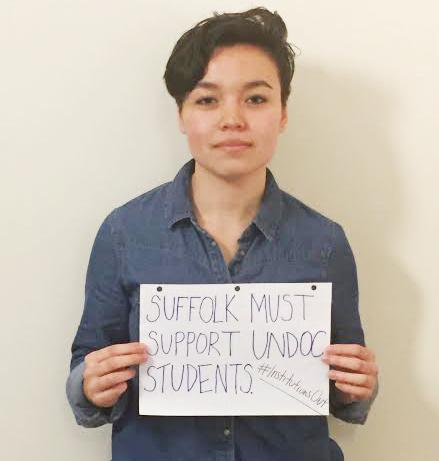 To be undocumented means that one does not possess legal documentation to live in the U.S. In contrast to international students who enroll at Suffolk with an I-20, undocumented students do not have any type of valid visa. They may have entered the U.S. on a tourist visa and stayed in the country past its expiration date, or they may have never owned a valid visa and crossed the border through some arranged means, which almost always includes a perilous journey.
Where I am from, a region known as the Rio Grande Valley along the Texas-Mexico border, the stories of undocumented immigrants are more commonly known than they are in Boston, and here at Suffolk. Awareness of such struggles produces more empathy to the obstacles undocumented students face when trying to advance socially and economically by going to college.
Undocumented students often do not benefit from the ballast of a large family income, because if they are undocumented, it is almost guaranteed that their parents are too. Without papers, one cannot legally work in the U.S. Undocumented students also do not qualify to receive federal financial aid, including students who are recipients of DACA. Without a work permit and lack of financial aid, paying for private tuition can become an impossible mission.
Undocumented students are likely first generation college students. Although I am not undocumented, I am a first generation student and immigrant from Mexico, and I am also the oldest in the family. I had no one to guide me through what seemed like an endless maze to get myself to college, even with a strong high school transcript. My parents do not speak English well enough to have been a resource for me. These are all common themes for first generation students.
So, with the current lack of resources for undocumented students, what happens when one calls and asks an admissions officer what their options are?
One disencouraging call can lead to an undocumented student eliminating Suffolk from their list of potential schools, leaving a vacancy in the talent and diversity that student may have been able to bring to our campus. Yes, Suffolk boasts about diversity and carefully handling different cultures and experiences, but diversity does not mean only seeking for students of different countries of origin. Diversity includes classism and immigration status, as well.
I was disappointed with the meager number of relevant links I found on the Internet that discuss undocumented students at Suffolk, especially finding that Brandeis Hoot article. I would rather not think how many students have been pushed away from attending our university after not finding the appropriate resources for their undocumented status — students pushed away after just one Google search.
As someone who hopes to graduate from Suffolk, I would like to see the administration make an effort to change this, to make our campus (and our Google searches) safe for undocumented students to consider our university an option. And, if you are a prospective or current undocumented student, from one immigrant to another, you are welcome on this campus, and your enrollment here is just as valid as any other student. You add one of the most important factors of diversity on campus, and I hope our administration starts recognizing that soon.
Leave a Comment