MIT Professor Noam Chomsky, Vietnam resistors tell their stories
In front of resistors and veterans of the Vietnam war, panelists told stories of the resistance of the American War in Vietnam in an event at MIT, hosted by United for Justice in Peace organization.
Panel members included one of the foremost public dissidents in the U.S. during the past five decades, MIT professor Noam Chomsky, draft resistant John Bach, and military resistor Susan Schnall.
"There are many challenges for those of us that stand for peace," said Schnall, a former active duty Navy nurse and military resistant during the time of the Vietnam War.
Schnall was court martialed for anti-war efforts in the San Francisco area. She recalled her experience while taking care of wounded soldiers coming back from Southeast Asia.
"What I found as I took care of the young men, and they truly were young at 18 or 19 years old, primarily Marines who serves in southeast Asia," said Schnall. "I heard their stories of death, of destruction, of hating people that looked different from them … I would hear their side of the story, as they recalled their nightmares of serving in the jungle, of being terrified of being shot at, of dying."
Schnall heard about the GI and Veterans March for Peace demonstration in 1968 in the San Francisco Bay area and thought it was time to speak out against the American War in Vietnam.
"We made flyers and distributed them on my base and put posters up in the middle of the night. And you can just imagine what happened to them all: they were all torn down by the morning," said Schnall. "I had remembered when the United States Air Force was dropping flyers in Southern Vietnam, and I thought, if the U.S. can drop flyers on Vietnam, a country that was 6,000 miles away, why can't we drop flyers in the military bases here, and why can't we do this for Peace?"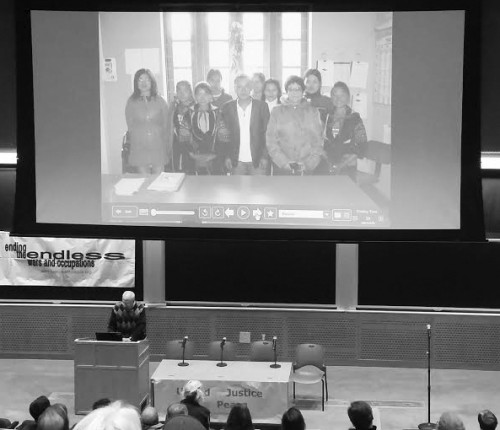 Schnall told the audience that she had a friend who was a pilot for a one-engine plane. Her friend dropped flyers announcing there was going to be the March for Peace, including at the Naval base aircraft carrier.
When it came time for the GI and Veterans March for Peace Demonstration, she wore her uniform.
"There were about 400 to 500 of us GIs that had marched in this demonstration," said Schnall.
The military brought charges against her that reflect poorly on troops.
She said she was frustrated by the fact that she could not wear her uniform while speaking while advocating for peace, but other officers could proudly wear theirs when pushing for war.
"My defense was that General William Moreland wore his uniform when he went before Congress and wanted millions more dollars for the war in Vietnam," said Schnall. "And I thought, if he can wear his uniform to talk about war, why can't I wear my uniform and talk about peace?"
The next panelist was John Bach, who dropped out of college in 1967 to lose his student deferment, which he considered racist and classist.
Bach spent three years in federal prison, which he described as "the freest years of my life."
Bach spoke of the horrible conditions of VA hospitals, the people who fled to Canada to get out of the draft, and the treatment to women during the era.
"The treatment to women during the anti-war movement was often times dismissed and unjust," said Bach. "I want my sisters to know that many of us regret and repent, we will live and learn, and hopefully get better. And this is what distinguishes us from our government."
Professor Chomsky, a common critic of U.S. policy, spoke on a level of expertise on "what the Pentagon wouldn't want you to know or remember."
He spoke on how President John F. Kennedy's administration was expected to end the war, but instead reacted with a larger military occupation.
"There was a very easy way to end the war, a very simple path to end the war," said Chomsky. "The U.S. government discovered the dictatorship it established in South Vietnam was negotiating with the north for a peaceful settlement. It could have been very easy for the Kennedy administration to say, 'Fine, glad you guys are settling it, we'll pull out.' Instead, the administration organized a military occupation with a very harsh general."
After Chomsky ended his speech, some members of the audience stood and told the rest of the crowd about their side of the story, whether they were in Vietnam as a military personnel or in the U.S. protesting against the war as a fellow resistor.
Leave a Comment
About the Contributor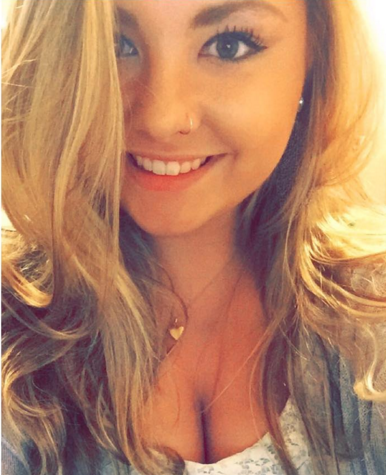 Alexa Gagosz, Previous Editor-in-Chief
Former Editor-in-Chief of The Suffolk Journal, fighter for equality and former World News Editor. Most likely found in The Journal's office, getting lost in the Massachusetts State House or frolicking around Boston Harbor. Thrives off of investigation pieces that consume her.