Pro Sports Column: Rousey still dominating women's bantamweight division
Downing top contender Cat Zingano in the octagon Saturday night, Ronda Rousey met victory once again.
Rousey was able to floor the charging Zingano and finish her with an unorthodox armbar in just 14 seconds. It was the quickest title defense in UFC history.
Now, the question is: who is next?
Frankly, there does not seem to be many options. In a post-fight interview after her quick win, Rousey told Joe Rogan, she would love to fight the Brazilian-born star Bethe Correia. The problem is, Correia has only had two fights in the UFC. Both have been decisive wins, but a 2-0 UFC record isn't enough to earn a fight against the best. Better known as "Pitbull," Correia's overall professional MMA record stands at 9-0, and is yet to have her next fight scheduled. So, while not the most enticing option, she is still an option nonetheless, especially considering the depleted pool of Rousey's potential opponents.
Another potential suitor is Holly Holm. Before Rousey dismantled Zingano, Holm earned a split-decision victory over Raquel Pennington, improving her professional record to 8-0. In her eight victories, Holm has won via knockout or technical knockout six times, with her most impressive win coming 1:50 into the fifth round of her bout against Juliana Werner. The issue with Holm, similar to Correia, is her lack of experience. Holm has only one UFC fight, which is not enough to condone a chance at Rousey. If she keeps winning, regardless of how and whom it's against, she will likely get a shot at Rousey. But right now, she's still a few fights away from the big one.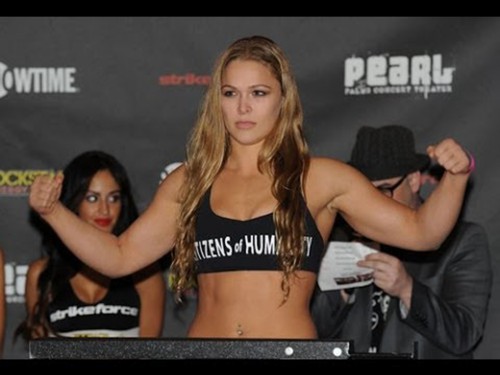 The third and final option is Cristiane Justino. "Cyborg," as she's commonly referred to, decimated Charmaine Tweet on Friday in just 45 seconds, sparking yet another outcry for a fight to be made, pitting her against Rousey. The issue, the same as it has always been, is the weight and steroid allegations. "Cyborg" struggles to make the 135-weight limit consistently, and is still constantly under fire for her prior use of steroids. Despite this, the situation is similar to that of Mayweather and Pacquiao. The two are on the same path as they dominate their respective sports, and at some point, they will have to cross. Right?
Well, hopefully. "Cyborg" is the woman with the greatest chance to beat Rousey, and at some point the fight has to happen. She boats a 13-1-1 record, with her only loss in May 2005. Eleven of her 13 wins have come via knockout or TKO. She is statistically unbelievable, similar to Rousey, and a fight between the two would make for the biggest fight in women's MMA history.
With Rousey being by far the most dominant fighter on the planet, the list of potential opponents is thin and getting thinner. Correia and Holm could pose somewhat of a threat, but the biggest opponent is still out there, away from the UFC. Rousey vs. "Cyborg" may be far from happening, but logically, it must. Whether it's at 135, 145 or a catch-weight, Rousey vs. "Cyborg" will happen, and when it does, expect fireworks.
Leave a Comment