Senior Series: First comes passion, then profit
Some students' main worry when deciding how to spend their college years is finding a lucrative job, but New England School of Art and Design seniors James Helenski and Taylor Leonard have been focusing more on where their passion takes them.
"I think art really does provide a really holistic approach to actualizing yourself," said Helenski, a fine arts major and philosophy minor, about their reason for choosing to pursue art. "I've always drawn and made things, so it's just been part of who I am," Helenski said.
Following graduation, Helenski will be taking off to Iceland for one month to participate in a residency with the Icelandic Printmakers Association, creating original prints with other artists of the association.
"I've been mostly focusing on applying to residencies and trying to further my professional artist career rather than finding a job to support it," they said. "For the most part, it's getting to go somewhere new and making art."
Fine arts major and psychology minor Leonard is taking a different approach to the job search process, going the more standard route of searching for positions through professors and online databases. She said that her current job of teaching an art elective to students with brain injuries at a school in Brookline is something she sees herself doing as a professional career.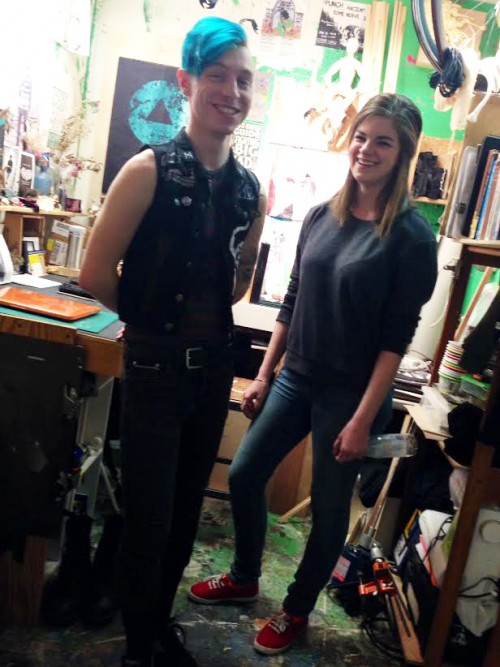 "It's definitely something I could stay in," she said. "I like the idea of incorporating art into most forms of therapy, and also it was my therapy growing up so why not allow it to be everyone's."
Though some would say that art students have limited opportunities when it comes to professional careers, Leonard and Helenski disagree, asserting that art majors do not have any more difficulty finding jobs than any other students.
"I think a lot of it has to do with people who aren't involved in art have a very narrow view of what artists can then move on to do," said Helenski.
Helenski feels that the skills art students have prepare them for anything that the world could throw at them.
"You may not be directly doing something artistic, but the disciplines and the abilities that you learn from it are applicable to pretty much anything," Helenski said. "Even though you have a highly developed skill set in one area, they can crossover into all sorts of different things."
Leonard agreed, and said that she hasn't found too much difficulty as she's been searching herself. "It's just creative thinking that really leads anywhere, and there's so many jobs in the arts as well."
Helenski and Leonard said that they both ended up as fine arts majors solely due to their love for it.
"For a long time I thought I was going to be in marine biology or biology with just a passion for art," said Leonard. She decided that it was worth it to pursue a career she was passionate about.
Art was always set in stone for Helenski, who uses artwork as a way to communicate message articularly to those who identify as gender-neutral.
"I'm making art that's trying to communicate that and connect with a wider audience of people," Helenski said. "That's always been a main drive for me in sticking with the arts, is because of what it can do."
Helenski feels as though jobs in art can be seen as unyielding, the best thing to do is go with what you know for post-college success.
"A lot less people are getting into fine arts because it's chancy," Helenski said. "Not too many people are successful as fine artists, but I think a lot of people cheat themselves by not giving themselves that opportunity because they are afraid that they … won't make ends meet, but if you're really driven and this is what you enjoy, you'll make it work."
Leonard said she thinks Suffolk does a good job of setting up students for success, but wishes NESAD was more on the university's radar.
"I think the professors here have done an exceptional job providing us with resources for the job world," she said. "I wish that a couple of job fairs would be brought specifically to NESAD. I think that it might be beneficial to some of the students over here to get a little bit more of that fair aspect of going to meet representatives in our space so that we could show some of our work that may not be transportable."
Leonard said that no matter what, she hopes that all NESAD students find post-graduation success doing what they love.
"Push your passions. A job will fall into place," she said.