Benson Henderson proves again technique beats size
By Sammy Hurwitz
Benson Henderson was furious after a controversial decision against Donald Cerrone on Jan. 18 at UFC Fight Night 59.
Using anger as fuel, Henderson impressively proved technique is far more important than strength and size in mixed martial arts.
The loss was Henderson's second in a row, giving him the first losing streak of his career. After the fight, in his in-octagon interview with Joe Rogan, Henderson declared he wanted to get into the octagon "next week." Obviously not what he meant literally, but it was made clear he wanted to get back into the cage as soon as possible.
So, he did.
After Stephen Thompson was forced out of his bout with scorching-hot prospect Brandon Thatch, there was an opening, and a big one. The fight would be five rounds, and take place just hours away from Thatch's hometown of Denver. Henderson was presented with the challenge and accepted.
Henderson is a former UFC lightweight champion. He has long been a staple in the division, and has bested elite fighters like Gilbert Melendez, Nate Diaz and Frankie Edgar twice, amongst others. He would have to move up a weight class into the stacked welterweight division.
Still, "Hendo" accepted.
Despite this, the talk around the fight was that Thatch would be a challenge due to his size and power, but Henderson would prosper. Thatch weighed in at a perfect 170 pounds, while Henderson weighed in at 169.
Both made weight with a one pound discrepancy. But when Henderson stepped off the scale to stare down Thatch, even some of the experts began to change their picks. Thatch absolutely towered above Henderson. It was coined by many to be a David versus Goliath affair, as if all of Henderson's credentials had been tossed out the window due to the big — sorry, really big — size difference.
How cliché is this? The small, quiet fighter taking on the large, scary looking opponent. Come on, fight fans, we've been here before. Was there ever a doubt that Henderson would be able to utilize his superior technique to squeeze out a win?
No.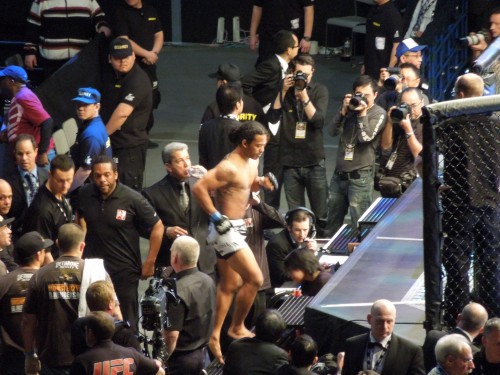 People seemed to lose sight of Henderson's credentials, as soon as they saw how imposing Thatch was face-to-face.
So what did Henderson do?
Well, in the words of Bruce Lee, Benson Henderson was, quite literally, "like water."
As the fight began, Henderson used his superior speed to pick apart Thatch round by round. Henderson landed a huge variety of strikes, before utilizing his wrestling background, and taking Thatch to the ground in the fourth round. By then, Thatch was gassed, and struggling to survive. Henderson proceeded to, like water, flow on the ground, seemingly tying Thatch up with his superior jiu-jitsu.
Eventually, in an almost-comical fashion, the 5-foot-9 Henderson was on the back of the 6-foot-2 Thatch, with his arms tightly wrapped around his neck. As the pressure increased, Thatch was forced to tap, earning Henderson the well-deserved victory.
With the win, Henderson revived his career, successfully entered the welterweight division and made old-school martial artists proud. Henderson proved technique truly is the more important trait to have in combat. Thatch had an edge in size, strength and power, while Henderson had speed and technique. Bottom line, kids: listen to your coaches. Technique wins.
Leave a Comment