Article by: Ethan Long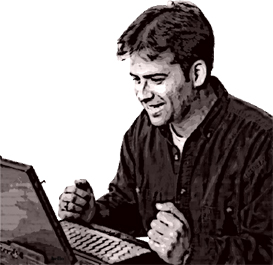 It seems, now more than ever, women think that we're stupid. I mean, I'm sure there are a good amount of us who wouldn't be able to find our way out of a paper bag, but still, we can't let those who seem less than intelligent become the norm in our gender. We must somehow figure out a way to come back on top, after all, it's called an "alpha male" for a reason. Anyway, there is one thing has been bugging me about this for a while, an example of those men who are truly the dumbest of dumb, and really make our gender look bad: the idiots posting on Craigslist's Missed Connections section. The following is an actual posting in the Boston section of the website.
Subject: White Jeep Cherokee near Northeastern – m4w – 22 (Northeastern University)
Body: You were coming from storrow drive/kenmore in an older white Cherokee. You were incredibly cute and had gorgeous eyes. You were behind me at the light near boylston. I was in the green wrangler with the big tires. I saw you in the rearview and was instantly intrigued. If you read this, let me know what stickers were on your back windows. I'd like to grab coffee.
Come on dude! Do you really believe that this woman, who was randomly driving behind you one day, will really look on this website and somehow find you? Seriously? First off, you have no clue that this woman even noticed the car in front of her. You said you saw her in your rearview mirror, but who even knows if she saw you? Maybe, for all you know, she was creeped out. Secondly, what are the chances that she's going to read your posting on the Internet? Of all the people living in the Boston area, why would one woman view this website? She's not looking for you dude. Sorry.
Most importantly though,  why would she want to grab coffee with you? You were checking her out in your rearview mirror before driving off. One can only assume that you thought about her so much during the rest of your drive, and decided to go home and about her on the Internet. Dude, this girl realizes what a total nut job you are. She will never "go out for coffee" with you after you posted ON THE INTERNET about a girl you saw in your MIRROR while DRIVING. I hate to break it to you, but you don't meet girls through rearview mirrors on Boylston Street.
Here's another example:
Subject: Black Northface, Green Celtics bag on Redline – m4w (Downtown Crossing, Boston)
Body:  We were waiting for the Redline to Ashmont at Downtown Crossing. You were wearing a black Northface fleece, and a green Celtics Club bag. You had glasses and were focused on your phone the whole time. I thought you were really cute. Once we got on the train I was standing next to you. If I didn't have to get off at the next stop, I might have worked up the guts to say something. I hope you see this and we can meet up for something hot to drink.
Okay dude. Listen up. You stood next to a girl on the T and stared her down, noticing her clothes and her belongings. Why would you want to talk to a girl who was, as you put it, "focused on your phone the whole time"???? These girls are annoying to begin with. Obviously you couldn't talk to her anyway, even if you didn't "have the guts."  Also, as I previously stated, this girl will NEVER EVER SEE YOUR POST. How many girls who have Celtics bags and wear Northfaces do you think constantly check the Craigslist missed connections? You have no chance in the world, so hope as much as you want, but it's not going to happen.
So, let me just send one final message to those guys who post hopeless missed connections: Unlike those of you who seem to take this seriously, most of us only browse missed connections once in a while, and it's never to actually connect, it's to amuse ourselves. To give you credit, maybe if the girl of your dreams actually does find your post; if the she's a needle in the haystack who shares your views on missed connections, then maybe it was worth it, but you need really good evidence to actually think that any girl would really go out of her way to find your post. Sorry dudes, you're better off going out in the street with a description of the girl and asking around for her than posting on an Internet site that she probably won't check.
So this column is dedicated to you, cute, drunken Asian girl who chatted about Toy Story with me and my friends on the T two Saturdays ago. I was the one drinking strawberry soda next to the kid eating a box of Coco Puffs. I hope somehow, you see this. You got off at Boylston, so maybe I have some chance getting your attention? Okay fine, I realize that will probably never, ever, happen.
Ethan Long was the one drinking strawberry soda, bought at the Linden Suprette in Allston.