Iliana Quadri's historic night for women's basketball ended with her passing 1,000-career points in a win against UMass Boston.
In their most recent win on the road, the Lady Rams defeated Albertus Magnus, 77-72. Quadri went off offensively, leading the team with a season high of 30 points, and five assists.
"I felt very comfortable," said Quadri. "My teammates and coaches knew I was shooting well, and so did I, and my teammates really tried to open up shots for me to take. They kept telling me to keep shooting."
The Lady Rams are currently holding a 5-2 conference record, and sit fourth place in the GNAC standings. With their star guard leading the way, Quadri looks to make her milestone count by helping the team keep winning.
"Coach Leyden is a big part of my accomplishment," said Quadri. "He gave me a chance and has believed in me since freshman year. My teammates are a huge part of it as well, always pushing me in practice and in games to be the best I could. They also all always believed in me and trusted me with the ball."
Quadri a senior is only the 13th player in the history of the Lady Rams to reach the 1,000-point milestone. The only players who have been able to enter the 1,000-point club in recent years were Quadri's former teammates, Jacqueline Vienneau, Jennifer Ruys, and Meghan Black.
Quadri averages 13 points per game. Behind her is sister Alex Quadri with 10.4 points per game.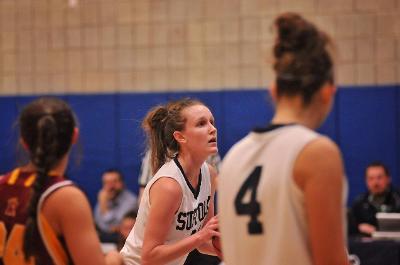 "I was extremely happy for Ili to get her 1,000th point," said Alex, a junior. "It's an incredible milestone to accomplish. To be honest words can't really describe how proud I am of my sister. Ili shows up every day to play and works harder than almost anyone else I know. She truly has dedicated so much of herself to this game and it has clearly shown."
The shooting guard from Sudbury has not let such an astonishing feat distract her.
"Honestly, I just focus on being a leader on the team," said Quadri. "It was really easy to just focus on the games ahead. I went into every game just trying to do what I could to help us win no matter what it took."
The majority of the Lady Rams' schedule consists of GNAC games, which will determine how they will place in the GNAC playoffs in the closing weeks of the regular season.
"I'm excited," said Quadri. "I feel like everyone underestimates our team this year and I just want to go to Rivier, play our game, and hopefully get a win and prove that we can be one of the best teams in the conference."
Unfortunately for Quadri, she will have to wait for Rivier, as the game has been postponed to Feb. 19 because of snow. The Lady Rams have had good luck compared to the rest of the Suffolk winter teams because the Rivier game has been the only matchup postponed during a wintery stretch that dumped dozens of inches of snow on the city. In addition, the team has had no game cancellations this season
MCLA is the final non-conference opponent for the Lady Rams.