The attack in Paris at the Charlie Hebdo headquarters is now classified as textbook case of radicalization, according to NPR. The two brothers responsible for the shooting had gone from outlaws to violent radicals, as described by BBC.
Sylvain Gaulier, recent graduate and former Journal staff member who lives in France shared his observations and how people are feeling after days on unrest in Paris.
"The opinions are still divided about what happened and how it happened," Gaulier said. "The government announced some measures to have classes on religions on one side and classes on civism on the other side. This is not new, so it doesn't really convince people. Some politicians are calling for stricter measures such as 'nationality loss' when people go to Syria or other similar countries where there is a fertile ground for terrorists."
Gaulier said that for muslims in France, things have almost gone back to normal. Unfortunately though, during and right after the attacks, there was a lot of hatred exposed on the Internet, including several blogs.
"I feel like everything is going back to 'normal' or how it was before the attack," he said. "But I don't agree with everything that has been said after the attack, such as the support of Charlie Hebdo for all. A real debate might be opened on respect and tolerance. Can we make fun and insult some religion? If yes, is it still fine to make a living out of it and target the same people over and over again? But those are other things that would deserve to be considered in greater detail."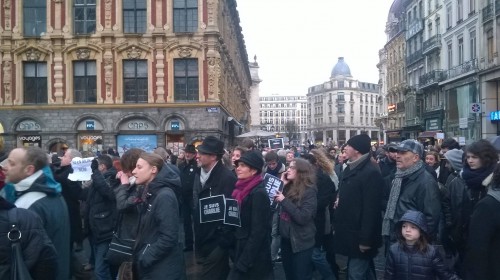 According to the Independent, a British national newspaper, the anti-Charlie Hebdo protests are still occurring around the world, including the burning of the French flag.
Recently, Pope Francis shocked journalists across the world when he commented on Charlie Hebdo's activity and freedom of speech. He said that people who "provoke" or "offend" others, whether it be for religious affiliations, we should not be "surprised" when such acts are avenged, according to The Daily Beast.
The brothers that committed the attack, Said and Cherif Kouachi, had an extensive record with criminal activity.
Said had traveled to Yemen in 2011 and showed support for al Qaeda when he trained with the extremist group. He was introduced to the radical ideology by his preacher at the Mosque that he belonged to in France.
Cherif has also had an extensive criminal record, according to The Wall Street Journal, as he was on the no-fly list in the U.S. and the suspected terrorists list. He had moved back to Paris in 2011, but did not commit any crimes during that time until the attacks on the Charlie Hebdo building this year, according to BBC.
The government of France is looking into ways attacks like these may be prevented in the future.
"Such opinions of nationality loss are generally expressed by the opposition, meaning right-wing politicians," Gaulier said. "There are still many debates about what we should do to avoid another tragedy through sentences, religious radicalism, and terrorist ties."
Protests are still seen happening across France in the defense of free speech.
"A small group of high schoolers decided to walk from Bordeaux to Paris," Gaulier said. "It took them about 10 days to make it to Paris."