It is just more than a month into 2015, and the number of measles cases reported in the U.S. has surged past the totals for nine of the past 15 years. More than 50 years after the first vaccines against measles were introduced, it is frightening and concerning that many parents still refuse to vaccinate their kids against something as treatable as measles.
Just how many American parents refuse to vaccinate their kids? Concrete numbers, or even estimates, are hard to come by, but given that the idea still enjoys support among politicians, younger adults, and the well-educated, the number seems to be in the range of "far too many."
Upon being asked if he thought parents should be required to vaccinate their kids against measles, New Jersey Governor Chris Christie said he and his wife chose to do so, but "parents need to have some measure of choice in things as well so that's the balance that the government has to decide," according to NPR. His vague answer points either to a desire to not alienate parents who fear a government dictating how they protect their children, or an ignorance of how important vaccinations are to keeping historically devastating diseases just part of history.
Another Republican, who might face off against Christie in the 2016 presidential election, put it more bluntly.
"I have heard of many tragic cases of walking, talking normal children who wound up with profound mental disorders after taking vaccines," Republican Senator Rand Paul told CNBC in an interview. He also said most vaccines should be voluntary, and that the decision to vaccinate their child or not is "an issue of freedom" for parents.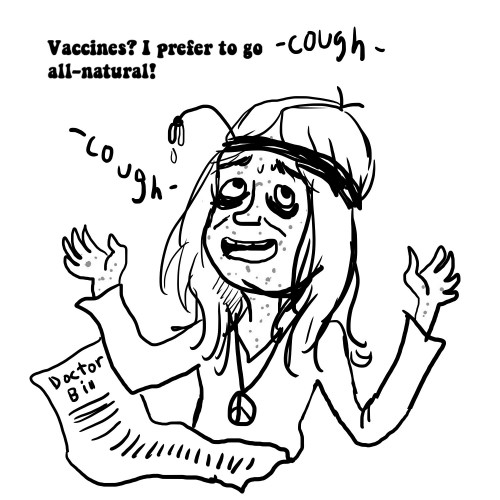 His remarks sound eerily similar to a claim made by former Representative and 2012 GOP presidential candidate Michele Bachmann, who warned against the supposed dangers of vaccines. Bachmann claimed to have met a mother during the campaign who said a vaccine against the HPV virus given to her young daughter had caused "mental retardation" in the girl. According to Politifact, what began as a criticism of Texas Governor and fellow candidate Rick Perry's mandate that school girls receive the vaccine turned into an ill-conceived anecdote into a fairly big news story that followed Bachmann.
"I didn't make any statements that would indicate that I'm a doctor, I'm a scientist, or making any conclusions about the drug one way or another," she told reporters four days later, according to Politifact. She was just, you know, taking an unverifiable anecdote from a faceless mother and turning it into a talking point meant to rouse the crowd against a supposed big-government intrusion from Perry.
Perhaps scarier than any politician's stance is what our peers feel about the issue. In a Pew Research Survey from August 2014, a whopping 41 percent of adults aged 18-29 said parents should decide whether or not to vaccinate their children with common immunizations. The number of respondents who think vaccinations should be mandatory increases as they get older, perhaps because older generations have a better memory of when things like measles weren't so easy to protect against.
Whether the straw-man stories are about vaccines for measles or HPV, parents should ignore the anecdotal stories from politicians like Paul and Bachmann. At a time when immunizations — and requirements from schools and universities that students are vaccinated — are so common, it is downright disheartening to think the country may be taking a step backwards in trusting the medicines that are available to us.
If parents truly want to protect their children, they should recognize the important advances against diseases our country has made in the decades since these vaccines were introduced.