Boston is no Olympic city
The debate has already begun around Boston's bid to host the 2024 Summer Olympics.
Boston 2024, the group behind the city's bid, last Wednesday released documents that highlighted specific details about proposed venue locations, expenses, and so on.
The documents emphasized Boston's spirit, using words such as "heart" and "inspire" to create some kind of emotional persuasion. They focused on the city's love of sports and competition, with one saying that hosting the Olympics in Boston would "create a sustainable blueprint for future host cities and will amplify the power of sport to create a better world."
I deeply believe there is such a thing as "the power of sport." When the Red Sox won the 2013 World Series, it came after one of Boston's most heartbreaking, yet resilient years to date. The love of sports is truly in the fabric of what makes the city one of the best in the world. But that does not necessarily mean that Boston is capable of hosting the oversized circus that is the Olympic Games.
It's obvious that the city would need some massive construction if it were to host the games. The Olympics have never been held in New England, according to Boston 2024's website, and there's a reason for that. Many cities that were previously selected had a population of more than one million people. Boston's population? 650,000.
Between athletes, officials from the International Olympic Committee, spectators, and the media, the city would be overwhelmed. If Boston's outdated subway system can barely handle a dispersing crowd after a Red Sox game, how would it ever be able to handle the opening ceremony?
Some would argue that the MBTA could use some updating, but the Olympic Games would be an ideal excuse to modernize the always-packed Green Line, right? Not exactly. Boston has an infamous reputation of failed construction projects, the most well-known being the Big Dig, a massive construction project that rerouted interstate 93 into a 3.5 mile tunnel.
The Big Dig was plagued with flaws. The final project was planned to cost $2.8 billion; but by the time it ended it cost over $14.6 billion, according to the Associated Press. To start a project to reconstruct the Green Line would mean traffic on Commonwealth Avenue would be snarled for several years. Boston cannot afford another "Big Dig" fiasco, and residents who remember it certainly do not want history to repeat itself.
Boston 2024 advocates can talk all they want about how hosting the Olympics would lead to great things for the city. However, we shouldn't need a massive production to do what is right by Boston's residents and commuters. The congested and run-down MBTA has needed improvements for several years, but now that the city is scrambling to get ready for the games, now it's the perfect time to make changes?
Fortunately, residents can share their opinions at several upcoming meetings hosted by the city to discuss the benefits and drawbacks of a Boston Olympics, according to the Boston 2024 website.
I love this city, and it is a great place to live. But before Boston can think about hosting a worldwide event, the city needs to focus on what's happening in front of us.
Leave a Comment
About the Writer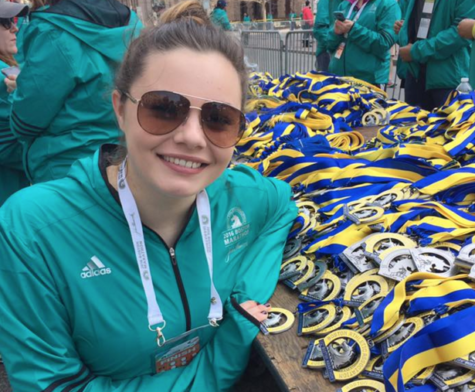 Katie Dugan, Assistant Opinion Editor
Born in Manchester, New Hampshire, Katie Dugan is a recent graduate of 2017 who majored in public relations. She lists among her many non-academic accomplishments successfully raising her pet, a beta fish named Moses and greeting the nations first sunrise on two occasions on top of Cadillac mountain in Maine's Acadia national park. She enjoys running, especially when the race is over and while she lives to explore her adopted city of Boston, just don't ask her for directions to where anything is. Finally, Katie loves the written word and working for The Suffolk Journal and sees the upcoming administration in Washington DC as an unlimited supply of future content for her columns.