This just in: women are allowed to be many things
After Paper Magazine's nude photos of Kim Kardashian were released, I watched Twitter respond to the pictures.
One user retweeted her photos with a heart eyes emoji. Another wrote "#fixtheinternet" in response to the words on the cover, in all caps: "BREAK THE INTERNET KIM KARDASHIAN."
Yet another retweeted pictures of actress Angelina Jolie helping children in a third world country. Jolie, who is a humanitarian and former Goodwill Ambassador for the United Nations Commissioner for Refugees, was also known for being a bad girl. I won't forget the time that she kissed her brother on the Oscars' red carpet, or her ex-husband Billy Bob Thornton's vile of blood that she wore around her neck. It seemed peculiar to me that someone would tweet about her as being the antithesis of Kim Kardashian.
I won't argue that Kim Kardashian seems like a woman full of ideas, or compassion. In fact, based on her role in the reality show "Keeping Up With the Kardashians," I see her personality as a blank slate. Her monotone vocal fry and sex tape are just two of the things I think of when I think about her. I also think of her equally famous sisters, and her sense of style.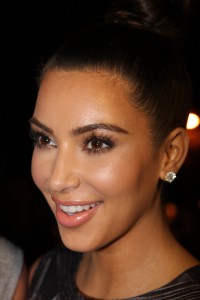 Although Kim Kardashian presents a sexualized image in the Paper Magazine photos and in past photo shoots she's done for publications like Playboy, she is not one-dimensional.
She has said that she donates 10 percent of her income to charity, and has used her reality show to make viewers aware of the Armenian Genocide. She also has beauty and clothing businesses with her sisters, and a 1-year-old child with her husband, Kanye West.
Nudity is not a marker of how saintly our actions are, and it's not a marker of our entire world and disposition. Keep the magazine cover away from sensitive eyes if need be, but it's just nudity.
The most duplicitous aspect of the photos is how photoshopped they are. If Paper Magazine's point was to show how caricatured Kardashian is by the media and her following by manipulating her image, then I think they hit the mark.
If their point was to trick people into thinking that Kardashian's body actually looks like it does on the cover, then they might not have done their job. Buzzfeed released un-photoshopped photos of Kardashian's body that looked realistic, and I think it's a shame that the photos are as altered as they are. However, I don't think it's shameful that a mother of a 1 year old posed nude. Kardashian is the owner of her body.
According to The Daily Mail, the champagne photo was a recreation of French photographer Jean-Paul Goode's 1976 image of model Carolina Beaumont. The original photo was taken to be a part of Goode's book "Jungle Fever." The ridiculous title of the book is a callous reference to Goode's own attraction to black women. The book features infamous photos of Goode's then-girlfriend Grace Jones.
This time around, Kardashian worked with the same photographer. I am not sure that Kardashian knows or even cares about the racial undertones of the recreated Beaumont photos she took, but they exist and they are sensational.
The article that accompanies these photos is worth a read. After the photos were released, Kardashian obnoxiously tweeted, "And they say I didn't have a talent … try balancing a champagne glass on your [butt] LOL #BreakTheInternet #PaperMagazine." The article, titled, "No Filter: An Afternoon with Kim Kardashian," paints her fairly.
In the article, journalist Amanda Fortini wrote, "She is variously seen as a feminist-entrepreneur-pop-culture-icon or a late-stage symptom of our society's myriad ills: narcissism, opportunism, unbridled ambition, unchecked capitalism. But behind all the hoopla, there is an actual woman — a physical body where the forces of fame and wealth converge. Who isn't at least a tad curious about the flesh that carries the myth?"
I agree with how Fortini paints Kardashian. Sensational? Yes. Sexualized? Yes. One-dimensional? I don't think so.
Leave a Comment