by Elaf Suliman
The largest GE turbine gas facility technology workforce in the Middle East is working towards modernizing Saudi Arabia's workplace by providing co-op training opportunities particularly for women engineers, according to CNN.
Saudi engineer Jumana Almuzel works side by side her male colleagues, "on the shop floor of Saudi Arabia's GE gas turbine facility," according to CNN. This is a rare situation as the conservative kingdom has gender segregation and "only one in five women are employed," according to reports by CNN.
Almuzel is an American-educated mechanical engineer. She is one of few women that are working with the degree they earned, while "over 50 percent of unemployed females hold a university degree, and that's because mixed work environments are not available," said Khalid Al Falih, CEO of energy giant Saudi Aramco.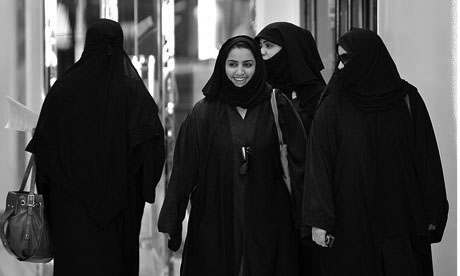 Although there have been advances in the women's workforce, such as "an all-female business processing center has now opened in Riyadh, with plans to employ over 3,000 women." As reported by The Washington Post, King Abdullah also created a government funded scholarship program. This has sent thousands of Saudi women to foreign universities, "about 145,000 Saudis, including 40,000 women, are studying on the scholarships this year in more than 30 countries," according to The Washington Post.
Despite job opportunities for Saudi women being complicated due to the restrictive religious culture, as stated in The Washington Post, Abdullah has been an advocate for women education and employment. The world's largest women-only university, Princess Nora Bint Abdulrahman University in Riyadh can hold up to 60,000 undergraduate students in its 32 million square foot campus.
Saudi Arabia's population is more than two-thirds younger than 30, but there's a 34 percent unemployment rate among Saudi women who want to work and as women are becoming more aware of King Abdullah's immense spending on education, they are insistent in their career possibilities, according to CNN.
Even though there are women working in the kingdom, they typically work in shops that cater to women by selling clothing, lingerie, or groceries. Saudi women have also held positions in fields such as medicine, nursing, and teaching.
The government has also recently announced their efforts to lift a ban on female lawyers arguing cases in the courtroom. They are currently allowed to represent clients and offer legal advice but not in the court.
The young women of Saudi Arabia are in the process of modernizing the kingdom through education, as thousands of college educated women enter the workforce yearly; although they are still unable to vote or drive. According to BBC News, the rising generation of the conservative religious culture is aware of the career possibilities and is putting Abdullah under pressure to close the segregation gap as the young population is eager for an egalitarian state.