Domestic violence ignored in the NFL
The National Football League (NFL) has received plenty of criticism over the past decade over players being arrested for different reasons, but the one offense that seems to happen too often is domestic violence.
The most recent case involves Baltimore Ravens running back Ray Rice, who knocked out his girlfriend in an elevator. In the press conference he held, with his girlfriend-now-wife at his side, he basically apologized to everyone involved in his football career, but never apologized to his wife who was sitting right next to him.
Rice's lawyer claims that his girlfriend threw punches and initiated the fight while intoxicated, but noted Rice himself was not intoxicated when he knocked her out senseless.
Self-defense is one thing, but knocking out a person you love while completely of conscious mind is another.
In a press conference as well as from the mouth of Rice's lawyer, the idea of Rice having a clean record is urging people to understand he is a good person.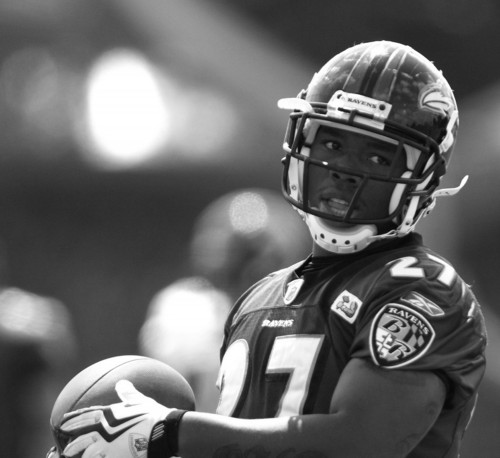 Okay. Good people have committed crimes in the past, so why is Rice's crime above anyone else? People make mistakes, but they still have to own up to them. This is all about Rice's football career, not the well-being of his now-wife or the proper justice.
Through typical victim-blaming, Rice and company are trying to secure his job that brings in more than a handsome amount of money (he will make $4 million this season).
Domestic violence has the highest crime-rate in the NFL along with assault. That means more than DUI charges or any other individual public safety offenses, according to Duke Statistics.
Former players like Darren Sharper and Keyshawn Johnson both were arrested in the past year on domestic violence charges. Other active and former players who have been arrested for other assault charges against women are Leroy Hill, Greg Hardy, Brandon Marshall, and Ahmad Brooks.
The NFL is not handling the cases in the right way; they have the power to suspend or ban players as a private business. Similar to how NBA commissioner Adam Silver is attempting to ban Donald Sterling, these players are committing crimes and getting a slap on the wrist by being suspended for a game or two with a fine.
Marshall allegedly punched a woman, and even with the substantial amount of evidence and photographs, Marshall was suspended for a single NFL game. He recently signed his contract extension on the talk show "The View."
The Miami Dolphins seem to be the only team that handled a domestic violence case in the right way when they cut former receiver Chad Johnson in 2012 the day after his arrest.
The NFL is not handling domestic violence charges well, and it is proof that the punishment is not enough since players are continuing to show violent acts towards their spouses. Commissioner Roger Goodell needs to clean up the image of the NFL by removing athletes who are not only criminals, but also promoting the idea that domestic violence is not a serious offense and something that they can get away with.
Like Rice's press conference, the one person who did not receive an apology, was the person most affected by the situation – his wife.
Leave a Comment