The grand success of the men's tennis team
Tennis may not be America's most thrilling sport, but for Suffolk University, the tennis team has had an overwhelming amount of success.
In the past two years, the Rams have made it to the Great North Eastern Conference (GNAC) Championships, but have fallen short to Rampapo both years. The defeats were tough for the Rams, but winning the GNAC North to make the championship was still important.
One player who has been a consistent starter for the Rams in the past four years is Denmark native and former sports editor for The Suffolk Journal, Vassili Stroganov.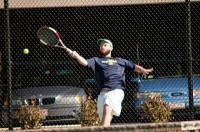 "I enjoyed all my four years in the team very much and it's tough to choose a favorite season," said Stroganov.
"I loved both my freshman year season and my sophomore year season because we won the GNAC title both years and that was a fantastic feeling even though I didn't play in both of those finals. I wouldn't be completely honest if I didn't say that to some extent on a personal level, my favorite season would either be my junior year or my senior year which is kind of ironic, because that is the two years in my college career that we did not win a GNAC championship."
In the 2011-2012 season, it was the last year before the GNAC split into a north and south divisions once teams were added, and one of those teams were Rampapo.
The Rams won the GNAC championship in 2009, 2010, 2011 and 2012. The four-time champions have always been a dominant force in Division III tennis.
Even in 2008, before Stroganov was on the team, they made the finals and barely lost to Johnson & Wales 5-4. Even Stroganov's freshman year, he was an important part for the Rams winning two of the championships.
"It felt great to make the GNAC championship four times, and it's a great honor to be the only Suffolk team in history to ever to make six consecutive GNAC finals," said Stroganov. "The two last finals against Rampapo I would rather forget though because they were both heart breaking."
Any incoming freshman at Suffolk should know that although tennis may not be the most engaging sport to watch, the team has worked hard for years to consistently play well.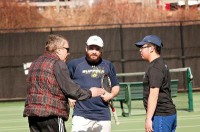 Students like Stroganov have been lucky enough to be a part of school history.
"Joining the tennis team is one of the best decisions I have made in college," said Stroganov. "Not only have I been able to improve my tennis skills and play the sport that I love, but also I have met so many incredible people who are now my friends and for that I am very grateful. Suffolk tennis made me feel like I was at home."
Leave a Comment