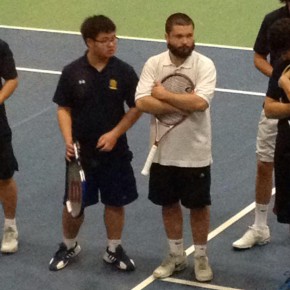 They came. They saw. They conquered.
The Suffolk University tennis team took no prisoners against Emerson College, and they took the day with a 5-1 victory.
The first three matches of the contest were forfeits by the Lions due to their lack of players. The Lions only brought four players to the match.
The Rams (6-2) no longer have to worry about the Lions being a conference game, but the rivalry is still there for the two neighboring schools.
The day was highlighted by No. 1 singles player Calixto Romero winning his eighth singles match of the season. He is now undefeated at 8-0 heading into the final two games of the season before the playoffs.
Romero has had a few close calls this season, but overall has dominated his opponents and has only lost two doubles matches.
One player who played exceptionally well was Vinny Le, who pulled out his first singles win in his collegiate career.
"I feel very happy," said Le, from Wilmington, Mass. "Being mostly a doubles player, the win in singles gave me a great satisfaction and I'm proud of myself."
Le was not the only one who managed to win his match. Vassili Stroganov of Hørsholm,   Denmark also won his singles match as well. This was a big win, and a dominant one, against a rival that has given the Rams a tough time the past few years.
Stroganov won his singles match 6-2, 6-1. It was a controlled match that had his opponent on edge the entire match.
"The atmosphere was very good since many of us won our match," said Le. "Also, they were the same team that gave us a 0-9 loss and a 5-3 win last year so this win was a good confidence boost for all of us."
Two of the doubles matches were won for the Rams with these pairings: team captain Drew Reilly and Aaron Lau, and Thay Thao and Francesco Saia.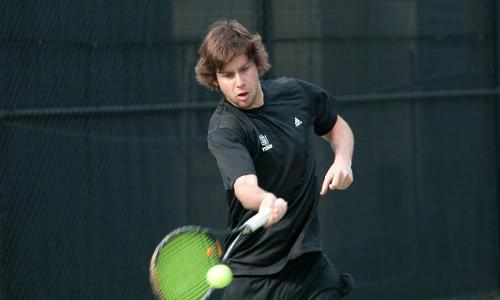 The Rams had plenty of pressure on them after losing to conference leader Johnson & Wales Saturday. With a 6-3 loss, it handed the Rams a very unwanted conference loss with only two conference games left.
Both Norwich and Anna Maria, the Rams final games, are not to be taken lightly since the Rams are currently in fourth place in the Great Northeast Athletic Conference (GNAC).
The Rams will face Norwich for their second to last conference game of the season. The Rams are 1-1 this season in GNAC games.
They will also have a make-up game with Anna Maria that was supposed to be April 6 before their four-game road trip. The game will be on April 19, at 1 p.m., which means they will have four days to rest and savor the game they just conquered.