Men's Tennis survives against Rhode Island College
The Suffolk University tennis team had a close call Tuesday night against Rhode Island College, but it was able to pull out the win.
The Rams (2-0) won the day 6-3, but featured plenty of difficult matches, two of which went into a sudden death set.
Team captain Drew Reilly, won his match, but was disappointed with his own performance.
"I feel okay about my match, I played at my opponent's level rather than beating him 6-0, 6-0," said Reilly confidently. "A win's a win. We grind it out, and it was a character building win."
It was a team win since the Rams won two of their three doubles matches against the Anchormen, and the one loss in the third doubles match was a tight one 9-7.
The close wins are okay for the team because it is the chance to see the errors on the court while maintaining success in the standings.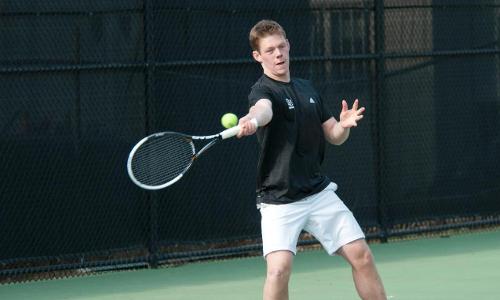 The Rams now have the chance to continue to learn from their mistakes, and the same goes for freshman Francesco Saia.
He lost his singles match, but had a key victory in the No. 2 doubles match when he teamed up with Reilly.
"I feel like I played well both my matches, even though I went 1-1 today," said Saia, from Wakefield, Mass. "As a freshman I am still learning, but this will all help me in the long run."
Saia is just one of the two freshmen on the team along with Nathan Mackay-Wright, so the experience he is gaining will be crucial for what appears to be unlimited depth on the roster for the Rams.
"We are strong all around, I speak for the team when I say we were off our game today, but we are a tough team to beat any day," Saia said.
The season is young, but the confidence of the team has built up for the past few years for most of the veterans. It appears that the same confidence has given the underclassmen the same drive for a winning effort.
Thay Thao, who showed a lot of heart and won the tightest singles match against Wentworth the week before, lost both his singles and doubles match.
"I lost both my matches, but I gave it my all. My teammate in the doubles match, Vassili Stroganov, we talked all during the match, trying stayed positive, but unfortunately it wasn't enoug." said Thao.
Thao may have lost against the Anchormen, but he has plenty of confidence in his team. When asked if he thinks his team can win the GNAC championship this year, his answer was quick and simple.
"Of course," said Thao.
The Rams will host UMass Boston Thursday for their third game of the season.
Leave a Comment