Northeastern suspends Students for Justice in Palestine, citing various violations
When Max Geller and other members of Northeastern University's branch of Students for Justice in Palestine (SJP) posted mock eviction flyers around the school's campus last month, they expected a reaction. The group is known for its outspoken demeanor, and its penchant for pushing the boundaries of public discussion. In fact, the group had already had several run-ins with administration in its short existence at the school.
What the NESJP could not predict, however, was that they would subsequently be suspended as an organization by the administration.
"On Feb. 23, SJP members and some friends went around campus posting mock eviction notices to mimic to the ones the IDF [Israeli Defense Forces] puts on homes in the West Bank. The purpose of this action was educational. We wanted to place information directly into the hands of as many students as possible," Geller, a second-year law student at Northeastern and a senior leader of NESJP, said.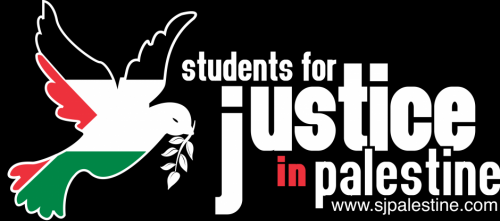 According to Geller, the situation blew up when Northeastern's Hillel branch, an Israeli advocacy group, claimed that Jewish and Israeli students were targeted by false information on the flyers. "The flyers contained only information provided by Israeli NGO's," Geller said, defending the group. NESJP feels that they have been singled out, targeted and censored, not for breaking any school rules, but for the group's controversial political stance.
The university administration sees things differently. "This is the result of a series of violations over a period of two years. Policies and procedures are outlined in the Student Organization Resource Guide. They range from vandalizing university property, disrupting the event of another student organization, not getting appropriate permits, and not providing a civility statement from a series of violations," said Renata Nyul, director of communications at Northeastern. The "disruption" is in reference to a walk out of an event with IDF soldiers, planned by NESJP.
"They did not go through the proper channels to take those steps. It is really a series of things, so it is very hard to pick one and single it out."
The school has also posted a statement on its website explaining the reasons for their actions. A link to the Student Organization Resource Guide is provided in the statement.
As for the accusations of the administration specifically targeting NESJP, Nyul responded, "Since 2008 we've had 18 student groups who have received sanctions, including suspension, they come from a broad range of groups."
As it stands for now, NESJP is currently suspended until the end of this calendar year. Rumors that two of the students involved were facing expulsion were not true. But Geller and the NESJP do not plan on going down without a fight.
"They have the opportunity to appeal, they have turned in their appeal," Nyul said.
"There are many legitimate positions one can take on the Israeli-Palestinian conflict. But there is only one condition you can take on the first amendment and free speech, this is not a question of the pros or cons of our political position, it is a question about the first amendment and free speech," Geller concluded.
Whatever the stance one takes on either the Israeli-Palestinian issue or the one currently unfolding at Northeastern, this story has kept many people in the Boston area captivated. It highlights a classic struggle between dissidence and authority; a struggle that has always been, and always will be.
Leave a Comment