G-Eazy returns to Boston, headlining Paradise Rock Club
Returning to Boston's small hub on his second headlining tour, Bay Area based artist Gerald 'G-Eazy' Gillum was in good spirits as he stepped foot onto the stage of his sold out show. Hosted at Allston's favorite venue, the Paradise, on March 22 fan girls and young gentlemen alike gathered together in their 'Eazy' merchandise as the anticipation grew leading up to the California native's highly anticipated performance.
From opening for Shwayze and Cisco Adler to playing solo shows at the Middle East's Upstairs and Downstairs venue, throughout the past three years G-Eazy has managed to make a special stop in Boston to show support to his local fans. Currently en route on his These Things Happen Tour the natural-born rap artist has embarked from coast to coast not seeming to leave anything less than his all on the stage following this particular stop on the venture.
An early showtime of 7 p.m., saw a slew of openers including Chicago's hip-hop starlet Rockie Fresh and fresh faces like Tory Lanez, Ground Up, and Kurt Rockmore. As the kids with large black X's on their hands cheer on and nod their heads to Drake's latest "Worst Behavior" played by the intermission DJ, groups of girls find their friends as they settle down for the main act. The excitement was apparent in the atmosphere as the minutes grew leading up to G-Eazy's show topping performance.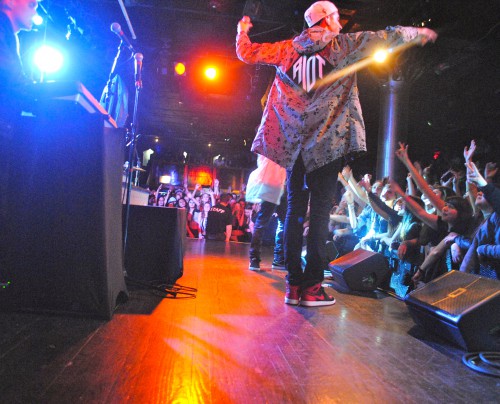 As the tall rapper appeared on the stage in his darkly tinted glasses sporting all black and red/black Nike's it was apparent that he was ready to lay down some love.
Playing popular tunes like "Lady Killers," "Marilyn" and "Mad" the crowd sang along to every verse as they swayed to the beats produced by a DJ and drummer, the only two members on stage for majority of the show. With a mixture of hands and cell phones both waving in the air, it was apparent that G-Eazy's local fans had visited the Paradise with intentions of 'turning way up.'
"I'm young Gerald you might know me better as "G-Eazy," said Gillum to his audience.
Performing "Must Be Nice,"  fans waved their hands to the chorus as G-Eazy moved about the stage, spitting his lyrics to his loyal fans.
With the show sold out for months before it's actual calendar date, it was clear that G-Eazy shared a special type of set to his first performance. The 24-year-old rapper humbly encouraged the audience members to give a round of cheers to his long time drummer and friend Blizzy.
"Ever since that first show at the Middle East Upstairs you guys make me feel at home when I come to Boston. I'm a long way from home-coming from Oakland, California," admitted the artist. "It's only right I play you some new shit."
Throughout the show G-Eazy often replaced words in his various sets of clever and witty lyrics with the location of "Boston" instead of it's original version. Towards the end of the show, sparklers were jetted into the crowd and the openers reappeared on the stage for a final hoorah as the rappers all spit a small verse making for a stellar final performance.
"I got mad love for Boston every time I come here you guys show mad love," said G-Eazy shortly before performing his final song of the evening.
Leave a Comment