UMass Lowell takes the Lamoriello Trophy, Hockey East Championship
For 30 years, the best college hockey teams in New England have competed for bragging rights and the Lamoriello Trophy, in what is known as the Hockey East Tournament. Founded in 1984 as a response to basketball's "Big East" conference, Hockey East has seen a tremendous amount of success. While a Hockey East Championship brings with it an amount of prestige eclipsed only by a National Championship, the tournament is not affiliated with the NCAA. Other than points picked up in wins during the tournament, the Hockey East tournament has no effect on NCAA standing. Since 1996, the semi-finals and finals have been held at TD Garden.
This year, the final four participants were UMass-Lowell (UML), the University of New Hampshire (UNH), Notre Dame (ND), the only team in Hockey East outside of New England, and Providence College (PC). In the first set of games at TD Garden, defending Hockey East champion and No. 2 seed UML took on No. 8 seed ND, who shockingly upset No. 1 seed Boston College two games to one in a best of three series to reach the semi-finals.
The 4-0 final score of the first game, in favor of UML, is somewhat deceiving. Notre Dame played solid hockey throughout the game, but fell apart at key moments, including allowing two power play goals in the second period to put the game out of reach.
UML, while being outshot 35-22, managed to capitalize on the chances they did get. Helping team's cause in net was sophomore Connor Hellebuyck. Hellebuyck, drafted by the Winnipeg Jets in the fifth round of the 2012 draft, was nothing short of a force for UML, backstopping the team to its first Hockey East title and Frozen Four NCAA berth in team history as a freshman in 2013.
In the second matchup of the night, No. 3 seed PC took on No. 4 seed UNH. UNH was under extra pressure to win, as it needed the points from a victory to get a chance at making the NCAA playoffs.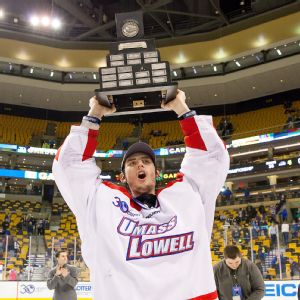 After a slow, scoreless first period, UNH broke out in the middle frame with three goals. Senior forward, Kevin Goumas, opened the scoring with a shorthanded goal at 7:05 of the second period. About five minutes later, defenseman Justin Agosta made it 2-0. Goumas made it a three-goal lead with only four tenths of a second remaining in the period with a beautiful wraparound goal. The goal was Goumas' 19th on the season, and his fifth goal in five periods. He had scored a hat-trick in game three of UNH's semi-finals series against Northeastern, propelling his team to the Hockey East semifinals.
"It's great to see the puck go in for him because he's been setting up [his linemates, Nick Sorkin and Matt Willows] an awful lot this season so it's nice that the puck goes in for him," said UNH coach Dick Umile. Goumas could barely stifle a smile as his coach and Willows heaped praise on him in the post-game press conference.
PC came back with a goal early in the third, but failed to build on it. The game ended with a final score of 3-1 in favor of UNH, the final matchup for the Hockey East championship being determined.
Saturday night at the Garden was a promising matchup between defending champions UML and upstart UNH. However, UML got off to a fast start, notching two goals in the first 15 minutes or so of play. Led by senior forward and alternate captain Joe Pendenza, who had three assists in the game, sophomore forward A.J. White, who had a goal and two helpers, and Hellebuyck, the UML Riverhawks stomped the UNH Wildcats in another 4-0 showing. Hellebuyck made 30 saves for his second consecutive shutout.
With their second consecutive championship, the Riverhawks have shown that they are now a force to be reckoned with in the Hockey East conference. Two years ago, the team had the worst record in its history, going 5-24-4. Following that season, the team fired its head coach and hired current coach, Norm Bazin. Bazin has taken the team and made a complete 180 degree turn. Under him, the team has had a 52-24-3 record, back-to-back Hockey East titles, and a Frozen Four appearance last year (college hockey's equivalent to basketball's Final Four). The team is also headed to the NCAA playoffs again this year.
"I wanted Lowell to become a program that competed for championships, and I think we've done that," Bazin said.
"It's huge for the program," Pendenza said of the turnaround. "What we've been through, what we've done with the program. Norm has had a huge part in that as well, just turning the program around after our freshman year we had our doubts about what was going on. We won five games and we weren't sure what was going to happen with the new coach coming in, but everyone believed, and the one common thing coming out of that year was that we never wanted to experience that again."
If Bazin is to be credited for UML's big turnaround, he could not have done it without the help of Hellebuyck. And this weekend was all about Lowell's goalie. His shutout against Notre Dame was the eleventh of his collegiate career, a Riverhawks record. Prior to this weekend's festivities, Hellebuyck was named to Hockey East's first all-star team. He is the first UML goalie to be honored with this achievement since former NHL goalie Dwayne Roloson did so in 1994. His shutouts this weekend led him to be the first goalie in Hockey East history to post back-to-back shutouts in tournament play, and the first goalie to post a shutout in two consecutive Hockey East championship games. Dating back to last year's semi-finals, Hellebuyck has not allowed a goal in 230 consecutive minutes of play at TD Garden. Fittingly, the sophomore goaltender was awarded the Hockey East tournament MVP award. As if he needed another milestone to break, Hellebuyck became the first player in Hockey East history to win two MVP awards (he also won MVP in last year's tournament).
"It's more about the guys in front of me. It's playoff hockey, and we only play at the Garden for playoff hockey. It brings out the best of the guys in front of me, and tonight they blocked shots and did everything, so it's really on them," Hellebuyck said.
"He pumps us up," Pendenza said of his team's goalie. "Just the stops that he makes when we're in a tough rut. He really gives us confidence back there. Hockey is a game of mistakes, and if we make a couple of mistakes here and there we know he's got out back, just like we've got his back."
Leave a Comment