More awareness, action needed to combat sexual assault and rape culture
People like the man Darren Sharper, and what he is accused of being, make me sick. People like the man who assaulted three women in East Boston last week leave me in disgust. The fact that we live in a culture that doesn't do enough to lessen these heinous acts from happening and put the people who do this away makes me furious. 
Sharper is a retired NFL safety that is currently on trial for allegedly sexually assaulting women in five different states in different manners. One of the alleged assaults in Los Angeles happened in October and is just now coming to light. The most recent happened only last month.
Sharper is not the first NFL athlete to face these kind of allegations. Steelers quarterback Ben Roethlisberger was accused of sexual assault back in 2008. The charges against the Pittsburgh star went away after a settlement in the case was agreed upon in 2011. It is rare to hear any analysts or journalists discuss them these days.
Those are just two famous examples of just how many people seem to, or allegedly seem to think forcing themselves on someone else is an excusable action. The man who is accused of assaulting the women in East Boston last week not only did not see his actions as wrong but thought he could get away with it in broad daylight. Which he did.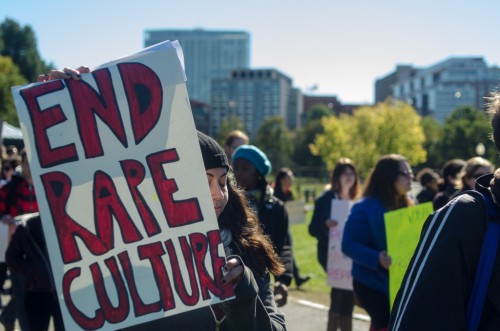 As the Journal noted in a staff editorial on Feb. 5, a recent Boston Globe piece showed that forcible sexual offenses involving college students has risen 40 percent from 2008 to 2012. It also mentioned that 88 percent of college victims do not formally report sexual assaults, according to a federal study. This report came out not even two years after charges and one admission came out regarding assaults committed by Boston University men's hockey team members Corey Trivino and Max Nicastro.
Maybe it is because I come from a suburban Anytown, USA kind of place, but I was raised to respect women and realize that there are few actions as inexcusable as forcing yourself on someone else. Maybe that is why it is so hard for me to wrap my head around why so many do not seem to understand these simple concepts. I love the city of Boston but it is clear this community suffers from the same rape culture that seems to be plaguing the rest of the country.
It should not take allegations against hockey and NFL players to make America think about just how many people have been sexually assaulted. It should not take three assaults in one afternoon by the same person to make people come to terms with the suffering endured by the victims and their families.
Every two hours, someone is sexually assaulted in the state of Massachusetts, according to the Boston Area Rape Crisis Center. There are plenty of agencies like the Boston Area Crisis Center across the country, showing our society does care about the victims of these attacks. The issue is that there is not enough done to prevent these attacks or put attackers away for their crimes. Only three out of every 100 rapists see a day in jail, according to the Rape, Abuse and Incest National Network.
There is no sugar-coating it. We live in a rape culture and there needs to be greater steps taken to change how sexual assault is viewed in society.