Maine court grants rights to transgendered students
Imagine one day you are not allowed to use the restroom that matches your gender identity. You are made an outcast, separated from your peers, and not allowed to be who you are, despite your feelings inside. This is exactly what happened to a fifth grade student in a Maine elementary school.
Nicole Maines, now sixteen, has identified as a female since she was two (she was born biologically male). When she was in third grade, with her parents and schools approval, she began using the girl's restroom. In 2009, when Nicole was in fifth grade, a male student began bullying Nicole. On top of that, the male student's grandfather called the school and complained to administrators. The school officials decided that Maines should only be allowed to use the gender-neutral staff restroom. This ruling violated the 2005 Maine Human Rights Act, which bans discrimination based on sexual orientation or gender identity.
In May 2011, the Gay and Lesbian Defenders (GLAD) filed in Pendoscot Superior Court, and then in 2012 a trial court judge granted summary judgment for the school. Basically, it was decided that the denial of Maines' access to the girls' restroom was not a violation of the state's gender identity non-discrimination law.

Despite the judge's ruling, the Maines family did not give up hope. After five years of fighting, the judge's ruling to the Maine Supreme Court was appealed by the end of this past January. Justice Warren Silver wrote, "it has been clearly established that a student's psychological well-being and educational success depend upon being permitted to use the communal bathroom consistent with her gender identity." No one could have said it better.
Most people will agree that transgendered teens deserve the same rights as their peers. But when it came to Maine's case, it seemed there were some technicalities that made it challenging for the school administrators to make a decision. There are some policies that rest on distinctions between sex and gender. Policies like these can possibly deny restroom access to transgendered men and women unless the person has undergone a specific surgery.
Regardless of how you feel about transgendered teens using the restroom of the gender they identify with, it is plainly discriminatory to treat transgender girls as different from all other girls and transgender boys as different from all other boys. The dignity and safety of these teens is put at risk every time they are forced to use restrooms associated with their biological gender rather than their gender identity.
Transgender teens and adults are getting too used to being treated as second class citizens. Everyone on this earth is equal to one another and all deserve the same rights. Instead of discussing irrelevant policies on distinctions between sex and gender, for example, there should be discussions on tolerance and acceptance. Although there is much more work to be done, Maines' story sends a powerful message to schools around the country that transgender girls and boys need to be treated just like all the other girls and boys at school.
Leave a Comment
About the Contributor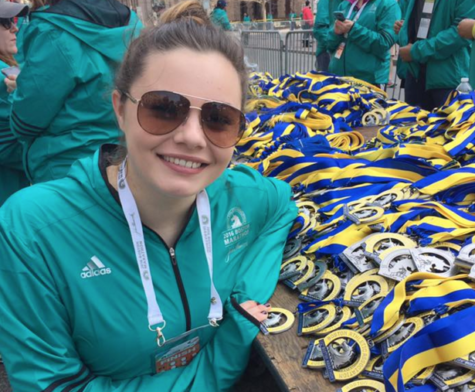 Katie Dugan, Assistant Opinion Editor
Born in Manchester, New Hampshire, Katie Dugan is a recent graduate of 2017 who majored in public relations. She lists among her many non-academic accomplishments successfully raising her pet, a beta fish named Moses and greeting the nations first sunrise on two occasions on top of Cadillac mountain in Maine's Acadia national park. She enjoys running, especially when the race is over and while she lives to explore her adopted city of Boston, just don't ask her for directions to where anything is. Finally, Katie loves the written word and working for The Suffolk Journal and sees the upcoming administration in Washington DC as an unlimited supply of future content for her columns.