International Thanksgiving dinner teaches, celebrates tradition
The Donahue Cafe was transformed to look like homes around the U.S. on Thanksgiving Day. Tables were covered with yellow, brown, and red tablecloths and adorned with candles as centerpieces that created a home-like and cozy environment for Suffolk students and staff.
Upon entering, all guests were asked to either bring canned food as a donation or to contribute $1 for the event. S.O.U.L.S. was in charge of managing all donations made.
Suffolk sophomore Erica Brierley, campus engagement scholar for S.O.U.L.S., explained that all the non-perishable donations made were to be donated to help the local community.
"All the can food and non-perishables will be going to the Greater Boston Food Bank. It is an organization in Boston that collects non-perishables, sorts them, and then gives them to families in need throughout the Boston area. They give each family certain items that they need most."
Earlier that day, S.O.U.L.S. partnered with the Caribbean Student Network in its Thanksgiving lunch and also asked for donations and contributions from all Suffolk guests where the groups collected over $50. All donations went to charity activities that S.O.U.L.S. hosts.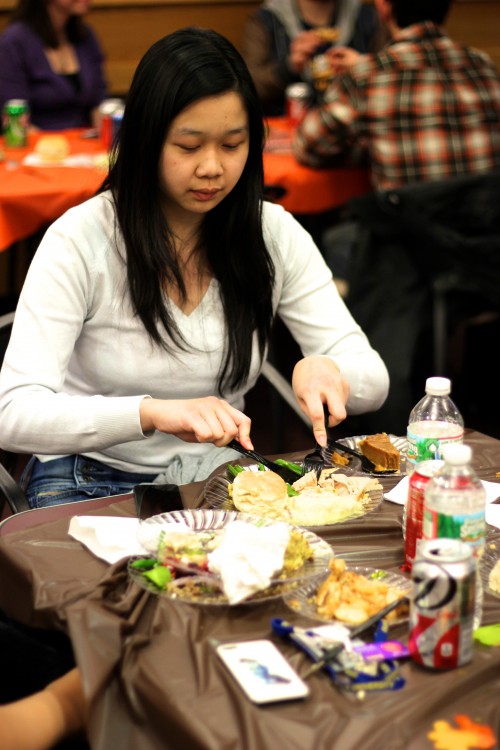 Tables with trays were set up at the cafe where guests lined up to be served by volunteers from the Suffolk community, including representatives from the African Student Association, who provided a traditional African dish for people to try. As the line extended beyond the entrance of the Donahue Cafe, all traditional food was being served, such as mashed potatoes, green beans, corn, bread, pumpkin and apple pies, and, of course, turkey and gravy.
"This year we were lucky enough to have several sponsorships for this event," said Lisa Belyea, SU traditions and special events chair. Other Suffolk organizations such as diversity services and international student services partnered to make the dinner happen. Belyea explained that she is part of the student group that plans all the events that are hosted annually at Suffolk and that have become a tradition, such as the Thanksgiving dinner.
"The purpose for this international Thanksgiving dinner is to pretty much create unity," Belyea said. "We look at how many people don't get the chance to go home because we have such a large international population while a lot of us, domestic students, get to spend time with our families. But it isn't feasible for everyone. We look into hosting this event so that we can share and teach them what our holiday is about. We want them to learn the story of it and, of course, also have the traditional meal."
Guests were a mix of staff and students, both international and domestic. Although the event is triggered to attract students who do not get to go home for the holidays, the presence of domestic students and their interaction with the international students adds to the "full experience."
"We open this event yearly to everyone," Belyea said. "This is all to create unity and to help everyone feel more involved and not feel like they are alone hanging out on campus by themselves."
Leave a Comment