Zimmerman, one of many firearm abusers, remains in spotlight
George Zimmerman's most recent arrest and then subsequent release is just another incident in a line of them ever since he pulled the trigger on Trayvon Martin.
This time he was arrested for threatening his girlfriend who accused him of trying to choke her and then pointing a shotgun at her a week later.
He will not simply be walking free however. This time Zimmerman was released on the condition he wear an electronic monitor, keep his distance from guns and stay away from the girlfriend who accused him.
If only he had received that gun restriction a few years ago. Judge Frederic Schobt ordered him to be forbidden from possessing guns or ammunition or traveling outside of Florida.
This is all pending on an arraignment set for Jan. 7. He has been charged with aggravated assault, a third degree felony that could see him facing up to five years in prison alone with charges for battery and criminal mischief, both of which are misdemeanors.
In February 2012, Zimmerman was acquitted of any charges in the shooting and murder of teenager Trayvon Martin. Ever since then he cannot seem to leave our news. Despite there being a possible civil rights charge looming, Zimmerman's freedom has only further proved the state of mind this country is in when it comes to race.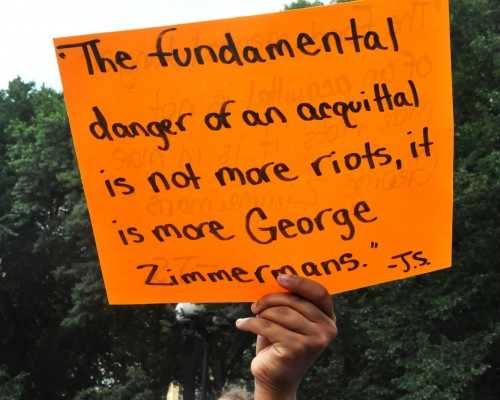 In the early morning of Nov. 2, 19-year-old Renisha McBride, an African-American woman, was shot in the head by a shotgun after a car accident in a Detroit suburb that was predominately white. McBride had gotten into a car accident and had been looking for help from residents. 54-year-old Theodore Wafer thought she was a threat and shot her from his front doorstep and did not call the police for another hour. Since the shooting, his story has changed multiple times.
Wafer has been charged due to public outrage but the victim was also put under scrutiny.
These types of cases are not all that uncommon.
In September Jonathan Ferrell, a 24-year-old, crashed his car in Charlotte, N.C. The crash was bad and after crawling out of his car he was stumbling around looking for help, presumed to have a concussion, and a woman hit her panic button instead. The police came and one, only one, drew his weapon on Ferrell and opened fire, killing him, after believing him to be a threat. The officer was arrested for "voluntary manslaughter."
Around three years ago, seven-year-old Aiyana Jones was shot and killed in her sleep by a police raid of her home.
It has been argued that Zimmerman's acquittal would only cause more cases like it and it is simple to see the reasoning considering the longevity of such events. Racism is not gone, not even close, but rather than admit that to ourselves, accept the failure and try and fix it, we are in a fundamental state of self-inflicted ignorance. People are being shot and killed and it is being kept under wraps. If any of these victims had been white and blonde would their killers have been allowed as much leeway? Would we have heard of it? Would the victims' faces be plastered on the news each day asking go for us to mourn their untimely and unjust deaths?
There is something inherently unsettling about how we never hear of these cases; how could they go unbeknownst to most if they were not actively searched for?
Zimmerman's latest charge proved that it was not a fluke or misstep, that he is indeed a violent individual.
If only this could be a rude awakening to the public about the crimes that are taking place so often.
Leave a Comment