National accomplishments for LGBTQ, U.S. making strides
This November has been a historic month for the LGBTQ movement in the U.S., and it is barely halfway done. As victories have been found in all corners of the country, Americans are celebrating the new protections of their liberty to marry, and now their liberty not to be discriminated against in the work place.
In Hawaii, all things indicate that Governor Neil Abercrombie will soon sign a bill that will grant state recognition of same-sex marriages. With a trailing history of sparking the controversy of government recognition of LGBTQ couples, it is a long awaited victory for the state.
When the Hawaiian Supreme Court ruled discrimination towards same-sex couples illegal in 1993, a wave of states mending their constitutions to explicitly exclude protections from gay and lesbian couples spread throughout the country, as well as Congress announcing its own definition of marriage. An event perhaps too early for the decade that it happened in, it is now expected to take full effect soon.
On the other side of the country, Maine Congressman Mike Michaud publicly announced that he is gay after rumors and comments over his sexuality began to appear as threats to his campaign for governor.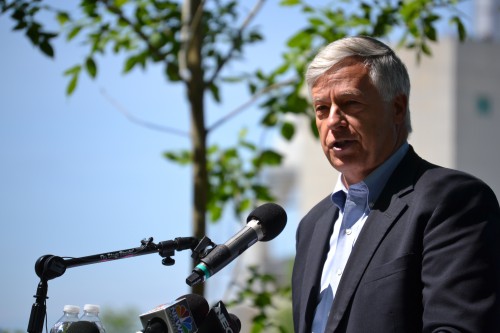 According to the Associated Press, Michaud is "the seventh openly gay member of the U.S. House" and that he "said the decision to come out last week was a positive experience that drew support from fellow congressmen and hundreds of constituent."
No major reports of hate have been reported against Michaud and he has received immense support from fellow congressmen, especially from those who are LGBTQ.
ABC reports that Representative Jared Polis tweeted his support for Michaud upon finding out, using humor to create a light environment for the event. His tweet read as "My #gaydar missed it."
Polis expressed encouragement for him and reminded ABC that Michaud will not let this distract him from his regular duties.
"It's clear he doesn't intend to make a big deal out of it," Polis said. "It's done and he's ready to get back to work."
In Washington, the Senate passed the landmark Employment Non-Discrimination Act (ENDA), which eliminates discrimination in the work place based on sexual orientation and gender identity. Current government regulations previously protected against using race, religion, gender, nationality, age, or disability, but failed to extend to gays, lesbians, and transgender individuals.
Senator Jeff Merkley said to The Huffington Post, "Today's vote was a historic vote for equality and freedom. Deeply embedded in the constitution are notions of freedom and liberty, and discrimination is the antithesis of those founding values."
As an acceleration of victories for the LGBTQ people in the U.S. is observable, we can connect that the overall attitudes and views towards the issue have evolved. When in earlier years of the 21st century, or even Hawaii in the early 1990s, states granting recognition to same sex couples appeared to be mostly isolated occurrences with minimal influence or impact, the last couple of years have witnessed groups of states, cities, and organizations stepping forward in support of the movement. Not only a tremendous accomplishment for the hard worked-for equality that the LGBTQ people of the U.S. have earned and long deserved, this increasing number of victories provide America with a clearer conscience towards the international controversy to take action. Although where the issue stands domestically is far from ideal, it is gradually reaching a state in which our government may be able to firmly stand against other governments, such as Russia, who are failing to protect their gay and lesbian citizens. In the same manner that our states influenced each other through time, the U.S. should mimic on a global level.
"Everyone should have the right to work hard and earn a living," Merkley said. "No one should be fired for who they are or who they love. We are one step closer to equality for our LGBT friends and family."
Leave a Comment