It's 2013 and women in Texas (and let's face it, many places in the U.S.) are finding it increasingly difficult to be allowed agency of their own bodies.
Texas has been going through quite a tumultuous couple of months, the outcome of which could foretell serious ramifications for the female population of the state.
One third of the state's abortion clinics have stopped providing services. The state passed, as appeals are being processed, a law which requires doctors who perform abortions to have formal admitting privileges at a hospital within 30 miles of the abortion clinic.
Many women did not hear of these rulings until they were at the clinic and were delivered the news.
The court cannot simply make abortions illegal, but in jeopardizing their businesses they can manage to bypass the law.
The three judge appeals court panel likened the ruling to saying that abortions should be performed by licensed doctors, favorable to the pro-life side of the argument.
The case is not over, the full appeals court have arguments scheduled for January, but as of right now it seems bleak for women of Texas.
The problem is that abortion has always, and likely always will be, one of the toughest subjects to debate because individuals on both sides of the argument are steadfast in their opinions and rarely budge on them; it is an emotional debate.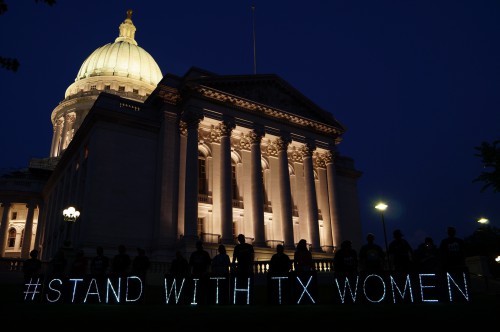 The consequences, however, largely fall on the female's shoulders. Now pregnant women who are searching for abortions will have to travel much further for the procedure, as long as they are lucky enough to have the means to make the trip as well as pay for the procedure.
Females are once again, in yet another case, being subjected to marginalization: their bodies are not their own, the decisions are made outside of their jurisdiction and the legality of said actions is placed in the hands of the courts rather than their own.
Abortion will always be a tricky subject, but the basic underlying goal should be that women gain credence to their own bodies. Women should be allowed to choose for themselves what steps they will take with a pregnancy, unwanted or not.
Roe v. Wade makes it impossible for Texas to say that the act is illegal, but they are doing their best to try and make the process as difficult as it possibly can be so that the action is nearly obsolete.
Despite the hearing of appeals in January, it may not be soon enough to save some of the businesses.
It is one challenge after another. After State Senator Wendy Davis gave her much talked about 13-hour filibuster this past summer, many believed that some form of change may appear in the often conservative state, but it did not take long to realize the falsity in that hope.
Despite the resolve that pro-choice activists are demonstrating, it does not help when the anti-abortion groups have greater means at their disposal. They have a court that is favorable to their side, months until an appeal is heard, plenty of time for businesses to fall, and a state with a history of swinging their way.
It would be hopeful to think that the appeals ruling with go in the favor of pro-choice groups but there is a rightful need to be prepared for a negative ruling. Across the country, anti-abortionists groups stand outside Planned Parenthood facilities to yell obscenities and impose a threat to female patients. Abortion in many areas is still spoken about as if it were a dirty word. Women are still looked at as criminals when having admitted to having the procedure.
Hope for the best, anticipate the worst, and maybe the outcome will be more favorable than pro-choice activists will have hoped for.