Ruys, Quadri look to help lead women's basketball to win
A new season with a new look, that is what the Suffolk University women's basketball team has ahead of them.
The Lady Rams were one of the best teams in the GNAC last season, but have lost their two captains in graduated guards Jacqueline Vienneau and Lindsey Rogers. Vienneau had more playing time than any player on the team, but was not the Lady Rams' leading scorer.
Jennifer Ruys, forward for the Lady Rams, is a returner as the leading scorer, and will now have to be the one to lead her team. The senior averaged 15.8 points per game, along with shooting an average of  45.8 for her field goal percentage and a 79.1 free throw percentage.
"It is surreal being a senior already but these girls are not just my teammates, they're my closest friends. It's fun leading a team who is so invested and committed. I just want to do everything in my power to give them a great season."
Ruys will not be the only leader on this team, the Lady Rams are led by arguably one of the greatest coaches in the conference, Coach Leyden, who was the 2012-2013 GNAC coach of the year.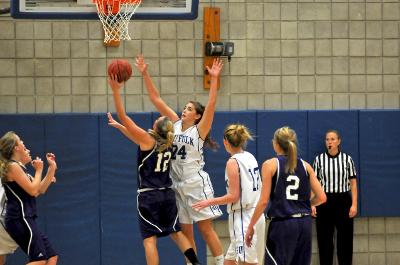 Leyden's approach on defense is unmatched is the conference, on average, the defense gave up 51.9 points per game. With an offense that scores 10 times more on average than they give up, it is an elite team to say the least, but the Lady Ram's defense was the second best in the conference next to Emmanuel.
"Coach Leyden places a lot of emphasis on our defensive game and we work hard at it every day in practice," said Ruys. "As a team, we are always focused on ascending from our successes last year."
Another key player for the Lady Rams has to be their guard, and the best three-point shooter on the team, Ilana Quadri.
Quadri had the highest three-point percentage in all of GNAC, averaging 43.6 percent from beyond the arc. She averaged a total of 10.1 points per game, which was third best on the team behind Ruys and Vienneau.
"I've been working on my shot over the summer, and I have high expectations for myself for this season in general, if that includes having the best three-point percentage again, then so be it," said Quadri, a junior from Sudbury, Mass.
This is a team that will have a hard time topping last season, but the impressive thing is that it is still a great team even after losing two starters. Rogers last season missed games with a hand injury, but the team was still able to produce win with it's incredible depth.
That same depth is returning, and has a chance to be lethal in the long run.
"These past two years have been great and I've learned a lot and think I'm ready to step up," said Quadri. "I think our team is going to be good this year, and everyone is going to have to step up to fill roles but I think were all ready. Coach just goes into every practice the same, expecting us to all be focused and work hard. He expects a lot from everyone and helps us to be the best we can be everyday.
The hard-working mentality is set for every player on the team, and their hard work without a doubt showed up on the court last season. They will be at full strength and very intimidating to their conference opponents, who they do not start playing until January, which leaves the Lady Rams plenty of time to prepare for their first GNAC match-up.
"After losing Jackie and Lindsey, there is some ground to make up for on offense but I have full confidence that my teammates will step up and contribute this year," said Ruys. "It is an opportunity to get more people involved, making us difficult to guard. We have a very talented team who works hard and strives to be the best we can be."
Leave a Comment