STUDENT FEATURE: Sunny Shannonhouse
Suffolk University houses some incredible students, many who often float under the radar or work behind the scenes to make incredible organizations possible. 
Just this week, we sat down with Sunny Shannonhouse, founder and president of the To Write Love on Her Arms (TWLOHA) chapter at Suffolk University, to ask a couple of questions.
INSTARAM: What is your year and major?
SUNNY SHANNONHOUSE: I'm a Junior and I'm a double major in Marketing and Management in the Sawyer Business School.
What are you involved in on campus?
SHANNONHOUSE: I'm an RA, I'm a member of the Honors program, and I am the president and founder of To Write Love on Her Arms here at Suffolk. I kind of go to other meetings, I'm not a huge member, but I like to just go and see what's out there.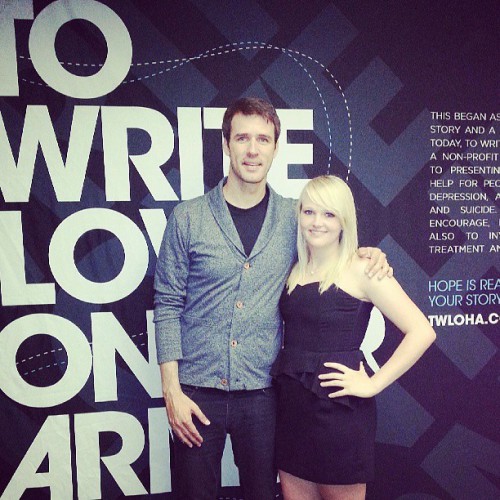 For those who don't know, what is To Write Love on Her Arms?
SHANNONHOUSE:  TWLOHA is not-for-profit, and they are dedicated to bringing hope and help to those who are struggling with issues such as suicide, depression, self-harm, eating disorders, and other mental illness. They do a lot of bringing about awareness to the community, but they also directly invest in treatment. They also do a lot of educational things; they go on Warped Tour to present these topics and hold open discussions with their target market, which is basically middle school to young adult or about 25 years old.
How did you get involved with TWLOHA?SHANNONHOUSE: Basically, it's from my hometown in Florida and I actually saw its first newspaper printing before it was a not-for-profit. I just kind of liked that idea. There was a story. They printed t-shirts, I have one of the original t-shirts, and I thought it was kind of cool. I could just really relate to the message and what they were trying to convey. That was about seven and a half years ago.
How did you bring TWLOHA to Suffolk?
SHANNONHOUSE: It's been pretty incredible. I tried to start bringing it here actually the summer before going into my freshman year, but I had to attend a conference first in Florida to get the proper training and to also network with other UChapters to see what works and what doesn't. It revolves around really sensitive subjects so [I needed] to learn how to talk about those and use the appropriate language, but also communicate their vision into our campus. It took about a year and a half to bring it to Suffolk. This is our second year – our first full year – as an organization on campus. It's been pretty great, and we have a pretty solid member base, so it has been incredible.
Was it just your hometown that got you involved with TWLOHA, or did you have a personal connection with it?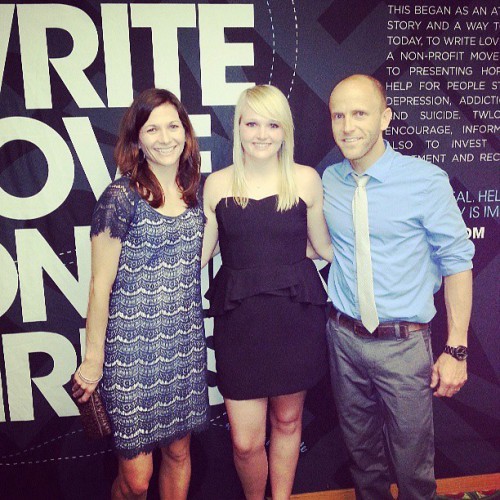 SHANNONHOUSE: I definitely had a personal connection. I struggled with self-harm and depression for a really long time, so I could definitely relate to that. I actually struggled with it for several years as I was supporting the not-for-profit. They actually paid for me to go to treatment. I've been in recovery for almost four years now – it'll be four years in December.
With all of this incredible work with TWLOHA, how does it translate into being an RA and beyond?
SHANNONHOUSE: It kind of translates to my entire life. Marketing and Management are my majors, but I hope to go into the not-for-profit sector. I want to hold either an executive position in an existing not-for-profit or possibly open my own in the future. We'll kind of see where that goes, because there's a huge demand in the not-for-profit sector for people to actually run these organizations.
It definitely relates to me wanting to be an RA and my role there. I want to help people, I want to guide them and kind of show them that there are different ways and kind of broaden their horizons.
What are the TWLOHA meetings like?
SHANNONHOUSE: It's Monday nights, from 5:15 to 6:15 in Sawyer 938. A lot of our organization is about balancing the heavy and the light, so we do talk about a lot of these subjects in our meetings, while we're rapping 2 Chainz or Macklemore in the background. Then we also have fun meetings. We did 'Fears versus Dreams' last week. It gave everyone the opportunity to openly talk about their biggest dreams and fears. Then we wrote their fears on a balloon and released them into the night sky, so it was kind of representing letting it go.
We do a lot of cool activities. We have a benefit coming next semester, so that'll be a lot of fun.
Random Question: To cheer up a friend or make them laugh, what is your go-to Youtube video?
SHANNONHOUSE: Big Booty Bitches. I just think it's ridiculous. I love it.
Special thanks again to Sunny for taking the time out of her day to interview with us! We can't wait to see the things our TWLOHA UChapter will accomplish next. 
Leave a Comment