Marie Antoinette in a different light: One-woman show depicts human side of controversial queen
Hang on for a minute...we're trying to find some more stories you might like.
By: Lucie Coppola
This weekend The French Theatrical Foundation presented "Marie-Antoinette In Her Own Words" at the Modern Theatre. The French Theatrical Foundation is a non-profit organization dedicated to promoting awareness and appreciation of French and French-Language performing arts.
The play was a one-act, one-woman show starring French actress Barbara Schulz and directed by Katherine Adamov. Schulz has been featured in over 50 films and television programs, is one of France's leading actresses in theatre and on television and film, and was nominated for a French Oscar, a Cèsar.
The play is adapted from Evelyne Lever's book Marie Antoinette, The Last Queen of France. Lever is a French historian and author. It takes place from the very moment Antoinette arrives in Versailles, to her last letter right before she was killed.
Prior to the play's weekend at the Modern Theater, producer Ross Mitchell, Schulz, and Adamov held a Q&A session at the Studio Theater located in Archer. All three gave a great deal of insight into what the production and staging process was like for the show. They also gave very strong opinions to back up their point of view on Antoinette and the performance at hand.
In this depiction of Antoinette, she is shown as more of a true and human projection of the French queen rather than the common condescending view that most portrayals give her.  "It is more about the heart, and less about the thought process." Schultz said. She sees it as being more important to give her a voice than to depict all of her actions as being foul and wrong.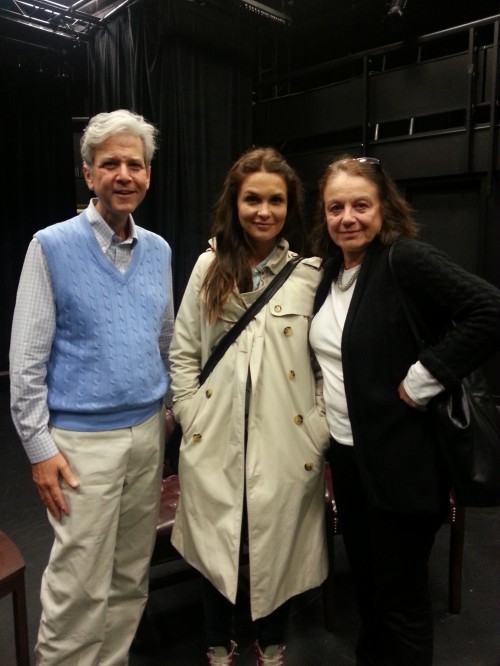 "We are at the extreme other end of the spectrum when contrasted with the Sofia Coppola film," said Adamov. And that is exactly what it was. When asked why they decided to portray her in this way Schulz replied, "It is the only way we could have taken it." The only other way this play has previously been performed is as a straight reading. "In contrast this is a full theatrical reading," said producer Mitchell. "We have done something here that we think has never been done before."
The contrasting views are very evident in this portrayal as it is rather evident that they are not trying to point out her flaws and wrong doings, but rather bring out the human in Antoinette. This shows a more true and understanding view of her. "She is always portrayed as a frivolous, light headed, young character. But what you must understand is that she is extremely intelligent. She is more than what people perceive of her," Adamov explained, giving way as to why they have chosen to illustrate her this way.
The play was performed in complete French with subtitles projected on a cyclorama in the background. The performance was very simple, yet somewhat complex. While Antoinette only had two chairs, a desk, and a bed to work with she used the stage and what she had very much to her advantage. The simple set and one act dynamic of the show seemed to fit the message and theme that was the objective of the performance.
However, if one was not a French speaker the play may have been a bit difficult to follow, as the slides progressed rather rapidly at times not allowing enough time to read the subtitles.
But overall it was a beautiful portrayal of the text that showcased a different view of Antoinette.