Ference leads charge among green athletes
Players from all four major sports leagues involved in protecting the environment
Article by: Mike Giannattasio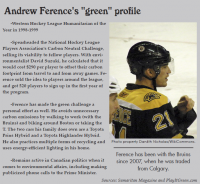 Most Boston Bruins and Celtics players will drive their cars from suburban homes to get to home games. Bruin Andrew Ference isn't one of them.
Ference, a defenseman and part-time alternate captain for the Boston Bruins, will usually walk to the TD Garden for all of his team's home games. The 208th overall pick in the 1997 NHL draft also does not own a car, and he takes the T or rides his bike to get around Boston, according to the website playitgreen.com.
Why does Ference not use the regular modes of transportation, such as Hummers and excessively luxurious vehicles that most professional athletes use? It is simply because he is committed to turning the National Hockey League green.
In an interview with the Play It Green Blog, Ference uses an example of how Canadian kids growing up decades ago used to play hockey in their backyards, but the generation of today's kids cannot do that anymore because it does not get cold enough.
Ference believes every player has a role in keeping global warming from damaging the winter season that makes the sport what it is.
While playing with the Calgary Flames in 2003, Ference worked with well-known environmentalist David Suzuki to create a carbon-neutral program for the NHL, which now includes over 500 players who purchase carbon offset credits to counteract the negative environmental impact of professional sport, according to the Play It Green Blog.
Ference is not the only professional athlete trying to make a difference in the environment.
Ovie Mughelli, a fullback with the NFL's Atlanta Falcons, won the first Earthman's Pro Football Eco Player of the Year. According to www.staff.blogs.atlantafalcons.com, "Mughelli has committed himself to teaching young people the blessings of taking care of our planet.  Caring for the environment is a central part of his message to youth."
Chris Dickerson from the Cincinnati Reds and Jack Cassel from the Cleveland Indians are two MLB players who are also do everything they can to bring environmental awareness to locker rooms around the world of sports. They launched the website www.weplaygreen.org as an initiative to get athletes, many of them baseball players, to make green changes to their everyday routines.
According to We Play Green, "the goal is to bring professional athletes together to inspire communities to build awareness of the growing environmental crisis. We Play Green intends to use professional athletes and how they incorporate green in their own lives to demonstrate various methods that sports fans can utilize to make a difference themselves."
Leave a Comment