STUDENT FEATURE: Whitney Simon
As LGBTQ History Month continues on, in the wake of last night's spectacular Drag Show, campus is abuzz about the office of Diversity Services. They offer so much for our students, but so many of us are unaware of just what exactly. We talked to Peer Educator and Senior Whitney Simon to get the scoop on what being involved with Diversity Services really entails.
INSTARAM: What is your major?
WHITNEY SIMON: I'm a Public Relations, and I'm also a philosophy minor.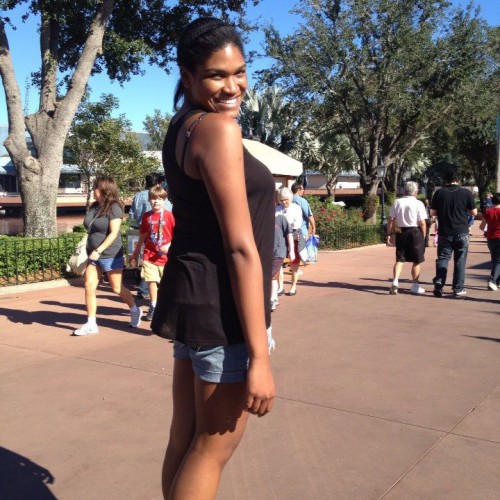 What activities are you involved in on and off campus?
SIMON: I'm a Diversity Peer Educator for Diversity Services, I'm in Ramifications – the a capella group [as an alto], I'm a part of Journey – the leadership group [as a level 4], and I'm also a part of the honors program.
How did you get involved with Diversity Services?
SIMON: I actually went on Alternative Spring Break with then-assistant director, Craig Cullinane. I loved working with him and he really liked me so he offered me a position there. I started working there my sophomore year and I've been there ever since.

What do you do in Diversity Services?
SIMON: We plan events mostly, right now. We have two events going on: Social Justice Series and LGBTQ History Month. We also hold trainings, like Safe Zone trainings and Diversity 101. We basically are like a hot spot for any diversity groups or any student who wants a place to meet people or relax.
What are some of your favorite events the office puts on?
SIMON: My best memories would be the MLK events. We get to get really cool speakers who always come and we get to have it in what was the Holiday Inn, but now is Windham. It's awesome to meet different people. There are so many people from around the campus that come to this event, and it's such an awesome thing that we're celebrating. We're celebrating Martin Luther King's legacy.
What does it mean to you to be a part of this organization?
SIMON: I just think that in the world sometimes that it feels like we can't really make a difference. I feel like, through working with Diversity, I'm making a difference. It may not be a huge thing, because it's just in Suffolk, but it'll work its way out into the world. I feel like I'm doing my part and trying to make this world a better place.
Who should come to Diversity Services events?
SIMON: Anyone who is looking for a place to be themselves, to meet new people, to learn new things about what this university offers, or what the world offers should definitely swing by Diversity Services. We have everything for everyone. We have Asian American Association, Black Student Union, SUHA. There are so many people who just come and sit on our couch to just talk with [the staff]. We're all just really open and we just want everyone to know that this is a place where you always feel welcome. Like Cheers!
Come to coffee hours from 9-11! Come early.
Who is your favorite Avenger?
SIMON: Thor. I love him! Plus, I love him with Natalie Portman. He's super strong. He doesn't have the technology helping him. He's just strong and has these awesome morals.
Special thanks to Whitney Simon for taking the time to interview with us! Check out the Diversity Services office – right by the stairs of the 4th floor of Donahue!
Leave a Comment