Hedrick Smith recalls years as a journalist, offers advice to students
Hedrick Smith was part of the team that worked on the Pentagon Papers, reported on the Vietnam War from Saigon and the Cold War from Moscow. For the better part of his career, Smith was a reporter and later editor at the New York Times before leaving to produce the PBS Frontline series. His latest career journey brought him to Suffolk University last week as the school's latest distinguished visiting scholar.
"I enjoy young people. I was on the campus life committee at Williams College where I went; I enjoy interacting with young people," said Smith. "My wife says I should have been a teacher."
Smith visited Suffolk though the efforts of the government department and spoke in government and political science classes. He discussed some of the changes in political power with one of Professor Rachael Cobb's political science classes, often referencing his book Who Stole the American Dream?
The book is "about what happened to America, particularly the middle class of the last 30 years. It directly affects students today and the future of everybody here," said Smith.
On Oct. 10, Smith talked with Professor Michael Goodman's class. The course is titled "Year 1968" and Smith spoke about his experiences that year, when he was reporting from Saigon during the Vietnam War for the Times.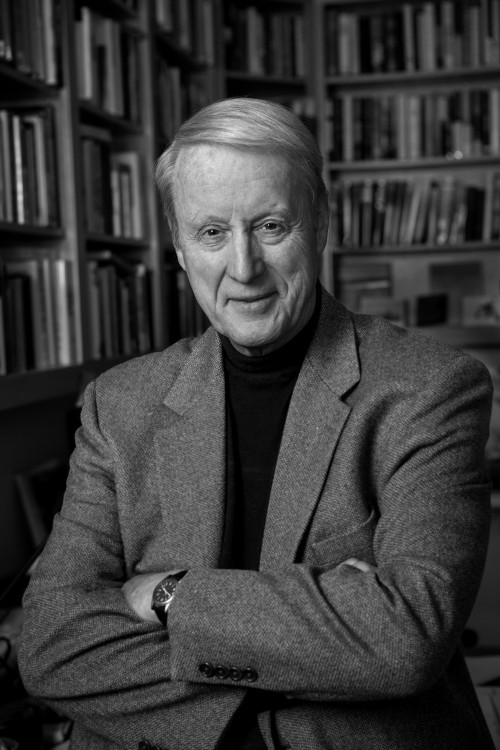 "I remember flying for the first time in a helicopter full of American advisers with Vietnamese troops…at one point suddenly getting slugged in the stomach. It was one of the GIs giving me a clip and a gun. He said 'load it.' I thought to myself, I'm a journalist. I'm not involved in a war. He said, 'load it.' and I loaded it," said Smith, recalling a vivid memory of his time reporting from Vietnam.
While Smith's stay involved sharing his experiences primarily with political science and government majors, he did speak with the Journal about his advice to journalism students.
"What worries me about young people today…they only want to focus on the subjects that are interesting to them," he said. "You can't really be informed or inform other people unless you have wide-angle vision."
Smith believes reporters can not focus on specializing early on but rather should embrace writing whatever stories come along.
"My advice [to young people] always is: as you start out, be broad. Tackle anything," Smith said.
"Don't make up your mind too early…Don't say 'well, I really like vanilla,' it may turn out that mango sherbet is your favorite thing but you wouldn't know if you closed yourself off at vanilla. There are a lot of flavors to life."
Smith studied at Williams College and later Oxford University before doing a term in the Air Force. He admitted that when he was starting his career at 26 years old, he felt behind his peers for spending so much time in the service and school.
After being turned down by Time Magazine, the Washington Post, the New York Times' Washington D.C. bureau and others, Smith landed his first job at United Press. He worked from 3 p.m. to 1 a.m. writing about fires and car crashes, always sending his clips to the Times.
"I wrote the dumbest stories but what I was learning was how to process information very rapidly and produce stories really quickly," Smith said.
Eventually, all those mailed clippings led to a meeting with James Reston, chief of the Times' Washington bureau at the time. Smith's career at one of the world's most prestigious papers started after an interview in the Atlanta International Airport.
Smith explained that he received a lucky break at the start of his career but his passion and persistence is what brought the Times interview about. The veteran journalist saw some of those same qualities in the students he had talked to at Suffolk last week.
"What's been rewarding to me at Suffolk is how interested and engaged the students are," Smith said. "They're really interested in learning…that's what I like about Suffolk, is the interaction. It seems to be built into [the school's] DNA."