STUDENT FEATURE: Eddie Hernon
In the midst of Fall Showcase tech week, we were able to pull aside Freshman Eddie Hernon after a four hour rehearsal. Hernon, a theatre major, plays the young Sam Harper in Paige Monopoli's original play Yesterday.
INSTARAM: How did you get your start in theatre?
EDDIE HERNON: I started doing shows with my cousin. Guys and Dolls, I was Benny. I always got the names confused! But it's Benny, not Bentley. I've played Riff in West Side Story, Harold Gorringe from Black Comedy, and Hamlet in Hamlet.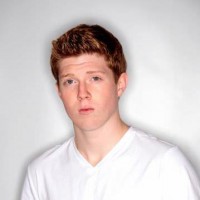 How did you get involved with the showcase?
HERNON: When we went to orientation I was given a list, of shows that we'd be doing in the year, I saw this one and it seemed
interesting. It was one of the first times I've auditioned for anything outside of like, high school. It was definitely new.
How has your experience been with showcase?
HERNON: Great. It's great. I love the show I'm doing. I love everyone else's shows, they're fantastic. Other people are incredibly welcoming.
Do you have a favorite actor, or an actor who inspires you?
HERNON: I love the voice of Ian McKellen. I love voice work and such like that. And Hugh Jackman is great.
Random Question: What is the best song to "shake it out" to?
HERNON: Oh, I don't know. Beyonce. Pretty much anything Beyonce. Yeah, pretty much anything Beyonce.
Special thanks to Eddie Hernon for taking the time to interview with us! 
The Fall Showcase goes up in the Studio Theatre TONIGHT! Show times are:
THURSDAY-SATURDAY OCT. 10-12 @ 8PM
SATURDAY-SUNDAY OCT. 12-13 @ 3PM
Located in the Studio Theatre, Archer Building, 4th Floor
Tickets for the Fall Showcase are already SOLD OUT, but seats often open up. Come to the shows and wait outside the box office – it's possible you may still be seated!
Leave a Comment