Fall plans for SGA: Making the bridge between CAS, SBS, and NESAD stronger
Suffolk University's Student Government Association (SGA) is gearing up for another productive year on campus, filled with new faces and new ideas. With all the fresh changes coming, however, there is one thing that hasn't changed—the SGA's dedication to helping out the students.
"Our mission for next year, and in general," said President Billy Cerullo, "is to forge strong relationships with the student body, while also representing them on campus. We voice the concerns that students may have, and formulate effective means by which we may rectify said concerns and problems."
SGA is the representative body for all full-time undergraduates at Suffolk, serving as an advocate for the student body in academic, financial, and co-curricular matters. It also serves to bridge the gap between students and the faculty administration.
Cerullo, along with rest of the executive board—Secretary Geraldin Batista, Vice President Vito Gallo, and Treasurer Tyler Leblanc—already have several plans for the upcoming academic year. Although it is still early and some goals will shift and evolve as the semester progresses, they have wasted no time in preparing for the future.
Building a stronger bond between The New England School of Art and Design (NESAD) and what is considered the "main campus" is one thing on the agenda starting next semester. NESAD is an extension of the Suffolk campus located on Arlington Street.
"Oftentimes it seems as though NESAD is not as included as it ought to be," says Cerullo, who will be a senior. "We want to move to fix that by reaching out to NESAD students and administrators to create workable solutions to these problems."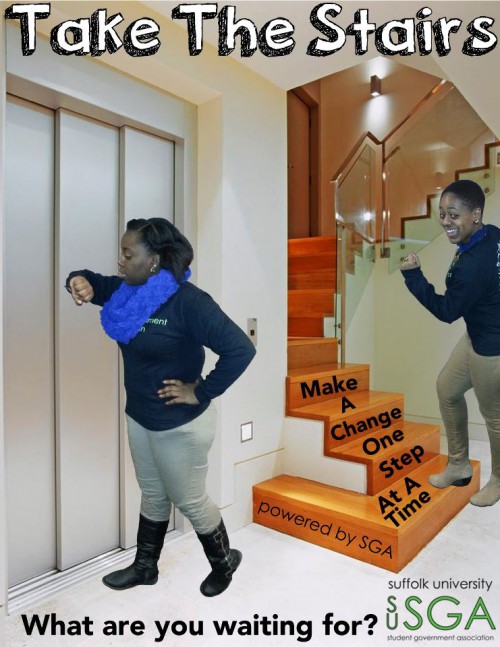 SGA also wants to continue to reach out to the student body through innovative PR campaigns. They hope to reinvigorate past successes, such as the Take the Stairs campaign from last semester.
One of SGA's main goals, Cerullo explained, is to build a cohesive board that can work as one to create a better sense of community between all clubs and organizations. This means building upon relationships that have been born in the past and also creating new ones.
It can be easy for a university like Suffolk to lose that sense of community, but throughout the years SGA has worked to unite both students and organizations on campus.
The members of SGA are prepared to rise to the challenge for yet another year.
Leave a Comment