Men's Tennis stumbles out of the gate, look to improve vs. Wentworth
The defending champions did not start out the season the way they hoped, as the Suffolk University men's tennis team lost to Emerson College 9-0.
It is certainly not the way the Rams wanted to start their season, but it is still too early to hit the panic button. The Rams only lost one game last season before going on to win their fourth consecutive title.
Vassili Stroganov returned this year with two GNAC championships already under his belt, and wants to keep the Rams' championship streak alive.
"Our mindset right now after this match is to work harder than ever before in order to bounce back and achieve our goal of winning the fifth consecutive GNAC championship," said the junior.
"Words cant describe how awful that game was. I guess the word 'disaster' would be a close but not strong enough to describe that game. The team had a collective breakdown and none of us played up to our potential that day, combined with the fact that Emerson had a great day and played better than ever before. It is the first time that we lost to Emerson since 2009, so to lose 9-0 was an extra slap in the face. We were missing our first single, but still there are no excuses for a 9-0 loss against our arch rivals. We made the mistake of underestimating Emerson prior to the game, but now we know how strong they are and this will not happen again."
Stronganov played in the number four slot, losing his match to Brent Walkoff 6-1. It wasn't any better across the board for the Rams, without winning any sets against Emerson and having their closest match in a doubles loss 8-5.
"I feel like my game has improved a lot since I first got here," said Stronganov. "My freshman year I only got five matches, while my sophomore year I played 13 matches for the team. This year my goal is to improve that number, win more than 12 games so I can improve that number too. This season my backhand has improved a lot and my game in general has improved, but I still need to work on consistency in my game and my volleys. Especially for the doubles games volleys are crucial."
Stronganov still appears plenty confident in himself and his team, so do not expect the Rams to take the next game lightly. They play Wentworth at home 6:30 PM on Thursday, and look to get their first win of the season.
The next chance that the Rams will have their revenge against Emerson will have to wait until the post-season.
"In order to not lose another match we will make sure to play more matches during practice instead of focusing mainly on different techniques and drills of the game," said Stonganov. "It was very clear after the game that we all need more fast-paced match practice both in doubles and singles so that will be our main focus the next couple of weeks."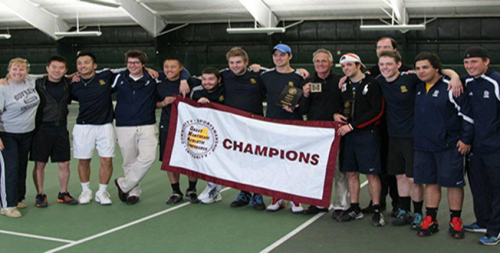 Leave a Comment