Napoli ready to crush ball above the Green Monster, this time for the Home Team
Roy Ben-Joseph  Journal Staff
Let's face the truth. Since Mike Napoli joined the Texas Rangers in 2011, there was no bigger "Red Sox killer" than the former Ranger. Napoli, originally a catcher, will change his position after signing with the Red Sox, and for the first time in his career he will spend the majority of his time at first base. The Red Sox have enough depth in the catching position. Jarrod Saltalamaccia is entering his fourth year and had a career high of 25 home runs in 2012. David Ross was signed as a free agent from the Atlanta Braves and Ryan Lavarnway will probably start 2013 in the minors, although it was made clear by General Manager Ben Charington that the young catcher will join the majors during the season.
With that being said, it is clear that the Red Sox didn't sign Napoli for his defensive abilities. Over the course of his career, he has hit better in Fenway Park than any other stadium. In 19 games, he has a batting average is .306 with .397 on base percentage, .710 slugging percentage and 1.107 on base plus slugging percentage. He has walked eight times, batted in 17 runs, scored 13 times and had four doubles. In the most important column, he hit seven bombs out of the ballpark, most of them being crushed out of the parking area behind the Green Monster. Mike Napoli has been nothing but a cause of misery, suffocation and frustration to the Red Sox pitching staff. If you can't beat him, then take him. That was what the Red Sox did. Napoli won't face those Red Sox pitchers anymore, but the ballpark in which he played only 19 career games and has been as dominant as the great Ted Williams, will be his home for 81 games in the 2013 season.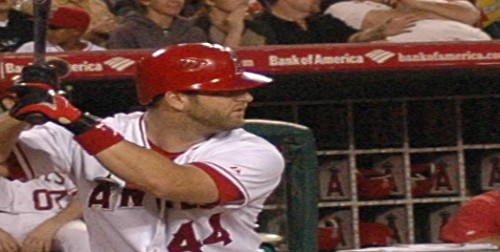 Napoli's way to a Red Sox uniform was far from being smooth. The right-handed slugger signed a three-year deal worth $39 million in December. Unfortunately, after a standard physical test which every free agent signee has to undergo, a minor hip issue was discovered in Napoli. For five weeks the deal was in danger of being canceled. In mid-January, both the Red Sox and Napoli reached an agreement for a one-year, five million-dollar deal with incentives that may bring the deal up to $13 million dollars. Certainly Napoli didn't get the best of the physical, losing both years and base salary from his contract. Although both Napoli and Red Sox medical staff don't expect the diagnosis to affect Napoli's performance, it will certainly be interesting to monitor, as Napoli is switching his defensive position for the first time in his major league career.
Napoli is not strange to playing first base. After all, both in Anaheim and in the Texas Rangers Napoli played more than a few games every year at first base. Normally, a catcher gets to rest every three to four games, but Napoli's bat was so valuable to his team's offense that giving up on it was hard, and in order to give his knees the necessary rest required from the burden of catching, he was played at first base.
Overall, the Boston Red Sox expect to get better and rebound from their worst season since the early 1960s, after they finished 2012 with a record of 69-93. The starting rotation will enjoy the signing of former Chicago Cub, Canadian born pitcher Ryan Dempster. John Lackey, who missed the entire 2012 season as a result of Tommy John surgery, will be very interesting to follow after he had the worst season of his career in 2011. In the outfield, Shane Victorino, nicknamed "the flyin' Hawaiian" has joined the team as a free agent after several years in the Philadelphia Phillies organization and a late trade to the Dodgers in 2012. But mostly, it is the return of John Farrell to Boston. The former Red Sox pitching coach and Toronto Blue Jays manager in 2012 has been acquired via trade and will be the one calling the shots in the dugout and above all, he will be looked at as the potential savior of the franchise.