Kentucky caps off amazing season with championship
The Kentucky Wildcats completed one of the most dominant seasons in college basketball history, with a 67-59 win over the Kansas Jayhawks Monday night, capturing their eighth NCAA championship and their first since 1998.  The Wildcats finished the season with 38 wins, an NCAA single-season record.
Kentucky had been the best team in the country for 99 percent of the year, losing only twice: once on a buzzer beater to Indiana in December, and a second to Vanderbilt in the SEC championship game, a rather shocking loss that snapped their 24-game winning streak.
This Kentucky team is full of future NBA lottery picks, including Doron Lamb, Terrence Jones, Michael Kidd-Gilchrist and of course, freshman phenomenon Anthony Davis.  Davis was his usual dominant self Monday night, and although he only scored six points, he had 16 rebounds and six blocks, and was a constant threat on the defensive end.
Davis, who will likely pull a Carmelo Anthony and be one-and-done after leading his team to a National Championship, averaged 14.2 points, 10.4 rebounds and 4.7 blocks a game, and is a lock to be a top five pick in the June draft.
The Wildcats barely broke a sweat during the tournament, winning their six games by an average of 12 points.  Their closest challenge came in the Final Four, when they beat their in state rivals Louisville by just eight points.  The Jayhawks were within five points of Kentucky with 1:37 left, but the Wildcats were able to hit their free throws down the stretch and put the game out of reach.
Since coming to Kentucky three years ago, Coach John Calipari has an impressive 102-14 record, and has never failed to get to at least the Elite Eight.  Calipari has had success at all three of the schools (Kentucky, Memphis and UMass) he has coached thus far, and looks to be at Kentucky for the long haul.
Looking ahead to next season, the usual suspects should be in the hunt for an NCAA championship.  Stalwarts like Duke, Michigan State and Ohio State, are expected to add blue-chip recruits to prepare for a shot at the 2013 title.
For right now though, all the glory belongs to Kentucky, the 2012 NCAA champions.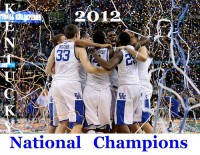 View Comments (2)