Men's basketball falls in regular season finale
The men's basketball team was unable to clinch a berth in the GNAC conference tournament, losing to Anna Maria College 78-66 on Saturday afternoon.
The Rams had a balanced offensive attack, with Matt Pepdjonovic, Justin Barall and Chris Torres all scoring 13 points each, but it was not enough to overcome the 61 FG percentage from Anna Maria.  Suffolk was outrebounded 37-23 and outscored in the paint by a margin of 40-24.
With the loss, the Rams were forced to wait and see how both Emerson College and Mount Ida faired in their last games. But unfortunately for Suffolk, the team was left on the outside looking in after all was said and done as they finished ninth in the GNAC conference.  The top eight teams in the league earn berths to the postseason tournament.
It was an up and down season for the Rams, as the team never really operated on all cylinders.  Two separate losing streaks of five and four games ultimately proved to be the team's downfall this season, and the Rams could never muster up a long winning streak to counter their slumps.  The team alternated wins and losses over its first six games, and never had a winning streak of longer than three for the whole season.
The Rams will graduate just one senior in Barall, who averaged 6.5 points a game while starting 17 games this year.  The Rams will bring back both their leading scorer, Torres, and their leading rebounder, Pepdjonovic, next season.
Pepdjonovic averaged 17 points and 13.6 rebounds per game and eclipsed the 1,000 point mark in his career this season.
With the Rams returning all but one of their players on their roster, the team should drastically improve and be a threat in the GNAC conference next season.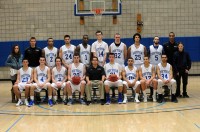 Leave a Comment