Men's hockey looks to snap 18-game losing streak
CJ Haddad
Journal Staff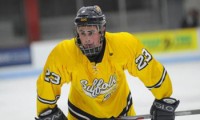 The first word that comes to mind when looking at the Suffolk men's hockey team season this year is disappointing. After collecting two wins to start the season, it looked as if the loss of their number one former goaltender, Jeff Rose, wouldn't be the factor that overshadowed the season.
Well 18 games later and the Rams have not yet found the win column since a November 5th victory against Becker College. They are 2-18 overall with four games remaining on their schedule.
Injuries have played a huge role in the results of this year's roster, to the point where they have become a depleted team.
"The biggest issue all year has been injuries," said Head Coach Chris Glionna. "We have had six players miss time due to concussions including two thirds of our first line. That does not include losing players to other injuries.
"Trainer Jeff Stone and the MGH sports medicine staff have been very busy this year. Combining the injuries with one of the youngest teams in college hockey has made winning games in the Eastern College Athletic Conference tough."
With only four games left in the season, Coach Glionna will be watching his players carefully.
"We will use the last four games to evaluate the players to determine who will be back next year," said Glionna.
Although sophomore goaltender Cam Kelly has had bright sports in the season, the numbers show for the most part, he has struggled in his first season as the starting net-minder. In 20 games played, Kelly has a save percentage of .852, and a goals against average of 5.23. In ten conference games, he has a save percentage of .840, and a grimacing GAA of 6.36.
"Like the whole team, our goaltending has been inconsistent," said Glionna. "I think the team understands that Cam, Brett (Roman), and Scott (Steele) are young. All three work very hard in practice and we think will continue to improve. All seven other conference teams returned their starting goalies this year.
"That was a big advantage for them. It is always tough to transition from one of the best goalies in the country in Jeff Rose, to a first-year starter. The team is confident that whoever starts next year will do a good job."
It seems as if the team has had a rough time with conference opponents, as they have not tallied a win in the ECAC conference, posting a 0-10 record. The Rams have also scored nine power play goals against non-conference teams, while netting only five against those who belong to the ECAC.
In the last four games, Suffolk has been outscored by a wide margin of 26-7, including being shut out by Becker College on January 28th.
There have been some achievements though, for his players who now get to see ice time due to injury.
"Sophomores Charlie McGinnis and Jon Stauffer have been our best players almost every night," said Glionna. "Tim Sprague, Chris Rettig, and Dan Mazzei have really showed promise as their ice time increased due to injuries to others."
The Rams play at Nichols College tonight at 8:10 p.m., before playing their last three games at home.