Women's basketball looking to make noise in GNAC playoffs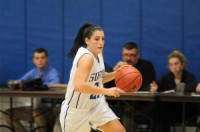 Alex Hall
Journal Staff
Each year at Suffolk you can expect a few things to be consistent. You know the best place to catch second-hand smoke is outside Sawyer, there will usually be a high profile fall concert, and that the women's basketball team is contending for the conference.
During coach Ed Leyden's time with the program, the Lady Rams have averaged 17 wins over the past decade and are marching ever closer to that mark with just three regular season games remaining.
Suffolk has won seven of its past 11 games, and stand at 14-7 overall this season.
Suffolk will need to continue controlling the game the way they've been able to most of the season, as they have just two more conference games left to move up from their current position as the fourth seed.
"I hate to sound cliché, but we're taking it one game at a time right now," said Leyden. "We can't control what other teams do, but we hope to be in the top four, knock out that first team at home and move onto the final four."
If the Lady Rams were to win out the remaining of their conference games, they could move into the second or third place spot, if Rivier and Saint Joseph's of Maine were to end the year on a losing streak.
While Suffolk will not be able to directly affect how those two teams finish, if Saint Joseph's or Rivier loses their last few games third place is very much attainable for this squad.
Luckily for Leyden's crew, their last three games will all be played at home, meaning they will at least have the always important crowd advantage on their side en route to their playoff aspirations.
Reflective of their head coach's teachings, Suffolk has been one of the best defensive teams in the Great Northeast Athletic Conference, currently boasting the top scoring defense and second best defensive rebounding in the GNAC.
"We stress defensive rebounds and certainly put an emphasis on the defense," Leyden explained.
Senior Mary Garon and freshman Tori Brillaud have been leading the way in terms of rebounds on the squad this season, averaging over six rebounds a game each. Three other players also find themselves averaging over four per game, showing that Leyden has himself a team who can execute his defensive outlook on the game.
The Lady Rams may be defensively orientated, but they are also putting up a fair amount of points on the scoreboard, currently boasting the third best scoring margin in their conference.
Sophomore forward Jennifer Ruys is following up her impressive first year at the college level leading the team in field goal percentage, proving to be one of the top producers on the offensive side of the ball.
Suffolk's next game will be against Anna Maria College in a crucial inner conference battle. The game is scheduled to start at 1:00 in the Ridgeway gymnasium.
"I hate to sound cliché, but we're taking it one game at a time right now," said Leyden. "Emerson will be a hard team to beat, and they've got one of the best coaches in the conference and his players play hard for him."