Michaelson tweaks sound on Human Again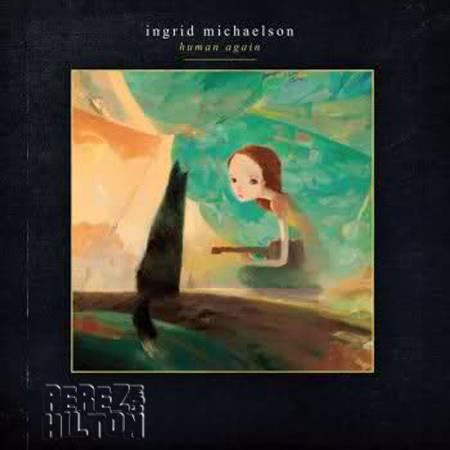 Ingrid Michaelson's fifth studio album, released last Tuesday, branches out from the classic indie, folk sound her fans have come to expect. Human Again takes the emphasis off the innocent ukulele melodies and cute lyrics, replacing them with faster beats and more dramatic narratives.

The first single off the album, "Ghost," was released back in November. The song still features Michealson's signature soft, slow beat but adds overwrought crescendos and intense vocals. These new elements create a vibe that diverges from her cutesy indie hits "The Way I Am" from Girls and Boys (2006) and "You and I" from Be Ok (2008).
Other notable tracks off Human Again include "Fire," "Black and Blue," and "Ribbons." These three tracks completely embody the new essence of Michaelson. The opening song, "Fire" sets a fast pace for the rest of the album using repetitive lyrics and recurring percussion accents. Similarly, "Black and Blue" showcases a choppy beat for listeners to bop along to—more reminiscent of an old funk band than an indie pop queen.

"Ribbons" masterfully mixes the best of both Michaelson's styles, incorporating gentle, quiet verses that spill into an energetic chorus overlaid with synth percussion. Fans accustomed to hearing soothing, meandering acoustic songs from Michaelson may find the new style to be too much of a metamorphosis, but songs like "Ribbons" prove the two sounds can be woven together perfectly.

But Human Again is not all a total split from the old Michaelson. Tracks like "How We Love" and "Blood Brothers" sound like they were written years ago, driven by her authentic string-plucking and weepy-yet-hopeful lyrics. "How We Love" describes a man losing the girl he loves, using metaphors referencing 'picture shows,' radio signals and falling raindrops—lyrics that are sure to go viral as hipsters' post-break up Facebook statuses.

Ingrid Michaelson, a master of piano, guitar, ukulele, and vocals, has steadily grown to fame over the years. Her songs have been featured on numerous TV shows—most notably Grey's Anatomy and One Tree Hill—commercials, and popular music trailers. Through these outlets, Michaelson has entered into the mainstream pop culture, making it almost impossible for someone to not know at least one of her happy-go-lucky tunes.

So now, on Human Again, Michaelson takes her artistic process a step further, challenging herself to play more serious songs and see if the fanbase she has built up will follow her along the way. In an interview with a music magazine after her album release, Michaelson proclaims that she's "not a little kid anymore."

A new sound was exactly her aim for this album. "I've done the whole barefoot singer-songwriter thing," Michaelson told the magazine, "now it is time to stand up and really sing." While this may cost Michaelson some of her original fans that fell in love with her folksy roots, Human Again has settled into the number two spot on iTunes top album sales today, confirming the style change has been a success with most fans, old and new.
Leave a Comment